Myanmar's Opium Harvest Rises 26 Percent, as Poor Farmers See Few Options
Christina Larson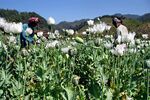 Northern Myanmar is a land of jagged ravines that make for dramatic scenery but poor farmland. And on steep hillsides with poor soil and little water, Burmese farmers are increasingly cultivating opium poppies, which weather tough terrain and sell for $500 a dry kilogram.
Using satellite imagery and household surveys, the United Nations Office on Drugs & Crime (UNODC) has estimated in a new survey (pdf) that overall cropland devoted to opium production in Myanmar rose 13 percent in a year. And with improved yields, Myanmar's overall opium output jumped 26 percent in 2013—to 870 tons of dry opium worth $433 million.
Three years ago, Myanmar's remarkable general election (pdf) heralded the beginning of the end of the long-ruling military junta and a period of increasingly political and economic openness. While foreign investment has poured into the cities of Yangon and Mandalay, that hasn't yet translated into increased economic opportunities in much of the countryside.
Poppy cultivation in Myanmar is concentrated in the poor northern states of Shan and Kachin, which border China. The UN agency found that residents in non-poppy-growing villages were more likely to earn a greater percentage of their household income from trade and salaried jobs than those in villages where poppies are grown. Poppy-growing households earn, on average, just $2,340 annually, with $920 of that coming from the illegal opium trade. "Our survey shows a strong link between poverty and poppy cultivation," UNODC's Myanmar Country Manager Jason Eligh said in a statement. "Opium farmers are not bad people, they are poor people. Money made from poppy cultivation is an essential part of family income."
Another factor is rising demand, both in local villages and throughout Southeast Asia. The UN survey recorded an uptick in the use of opium, heroin, and amphetamines across Myanmar, while drug smuggling and use are also increasing in neighboring southern China.
Roughly 192,000 households in Myanmar now work in opium production. "Villagers threatened with food insecurity and poverty need sustainable economic alternatives," says Eligh, "or they will continue, out of desperation, to grow opium as a cash crop."
Before it's here, it's on the Bloomberg Terminal.
LEARN MORE