business
MBAs Don't Get Much Love (or Money) From the Ivory Tower
By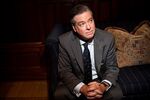 In the corporate world, an MBA can speed the way to a bigger role and better pay. In higher education? Not so much. At least, not to judge by the Chronicle of Higher Education's recently published list of the highest-paid U.S. private college presidents: Only three of the 50 highest-paid executives list MBAs on their online bios.
Drexel University President John Fry earned his MBA at New York University's Stern School of Business in 1986, then embarked on a career in management consulting in the higher-education sector. He earned a bit more than $1 million in 2011 (there's a two-year lag in the data), making him the No. 41 highest-paid executive on the Chronicle's list.
Robert Fisher, president of Belmont University in Nashville, Tenn., has an MBA from the University of Memphis, according to his online bio (pdf). Fisher, who was No. 45 on the Chronicle's list, also has a Ph.D. from the University of Arkansas.
Tulane University President Scott Cowen, who was the 49th highest-paid exec, has an MBA (pdf)—as well as a doctorate business degree—from George Washington University.
Beyond those three, it's slim pickings for private college presidents with business school credentials.
Chapman University President Esther Barazzone, the eighth-highest-paid in 2011, "studied at the Wharton School of Business Administration," according to her bio but doesn't appear to have received a degree. George Campbell, president emeritus at Cooper Union and the No.18 highest-paid college executive in 2011, graduated from the Yale Executive Management Program, a nondegree program. Johnson & Wales University Chancellor John Bowen (No. 33) has an honorary doctorate in business administration from Sullivan University. University of Southern California President C.L. Max Nikias (No. 13) is married to an MBA. You get the point.
Perhaps the shortage of MBAs among college presidents shouldn't be a surprise, since most MBAs want to be operators, not academics. Most of the Chronicle's 50 highest-paid execs have Ph.D.s in such subjects as mathematics (University of Chicago President Robert Zimmer, who made $3.4 million in 2011, tops on the list) and psychology (Syracuse University's Nancy Cantor, who was No. 50).
Law school graduates, on the other hand, appear to fit better into campus life. Eleven out of the Chronicle's highest-paid executives have law degrees.
(
Corrects the name of Chatham University in the sixth paragraph
)
Before it's here, it's on the Bloomberg Terminal.
LEARN MORE