Maine Governor: Stop Being So Negative About Global Warming
By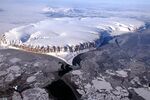 Paul LePage, Maine governor and climate-change skeptic, has found a new way to enrage environmentalists. Global warming is not only real, he now says: It's a gold mine. Specifically, the Arctic ice melt could create faster shipping routes to Europe, Russia, and Asia and a chance for his state to do business with heretofore hard-to-reach ports.
"Everybody looks at the negative part of global warming, but with the ice melting, the northern pass has opened up," he said in remarks at a conference on transportation trends in Augusta, Maine, earlier this month. "So rather than Maine being at the end of the pipeline, we're at the beginning of the new pipeline."
LePage reminded his audience of the deal Maine struck with the Icelandic shipping company Eimskip in February, moving its cargo operation from Norfolk, Va., and making Maine's city of Portland its North American headquarters. Iceland's president, Olafur Grimsson, speaking in Portland in May, also invoked the opening of northern waters as a potential boon for the Pine Tree State, according to published reports.
Others aren't quite ready to see the glass as half-full. Rising temperatures have led to an invasion of a green crab that ravaged the state's clam fishery and to the recent cancellation of Maine's shrimp season after last year's meager harvest, blamed partly on warmer waters, according Sierra Club Maine's director, Glen Brand.
LePage did not return calls for comment. The former chief executive of a chain of bargain stores, the governor riled environmentalists in the 2010 campaign with calls for less regulation and construction of a nuclear power plant. He called the global warming science espoused by Al Gore "a scam."
Brady Phillips, spokesman for the National Oceanic and Atmospheric Administration, which tracks climate change, said the phenomenon has produced both winners and losers, and "often people pick only the data that justifies their stance."
LePage is not the first politician to put himself on the bullish side of climate change. In September, Owen Paterson, the U.K.'s secretary of state for environment, food, and rural affairs, told a Conservative party conference that warmer temperatures could mean more crops grown farther north, according to an article in the Guardian. Even Russian President Vladimir Putin has joked that global warming means Russians could buy fewer fur coats—which is also great for the minks.
Before it's here, it's on the Bloomberg Terminal.
LEARN MORE