Diplomatic Feud Between India and U.S. Could Get Even Uglier
By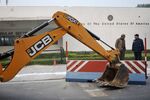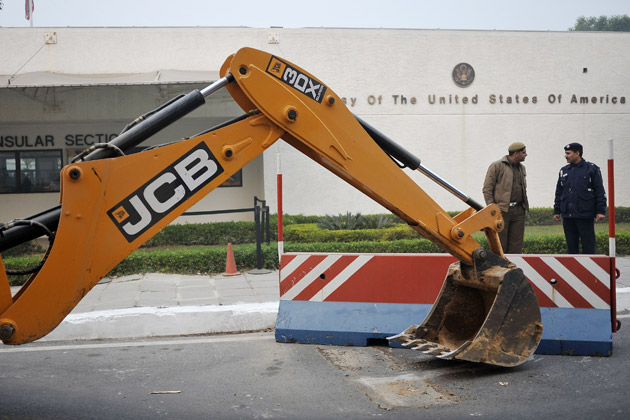 Any would-be terrorist thinking of attacking Americans in New Delhi may now have an easier time targeting the U.S. embassy.
Furious about the arrest of a diplomat in New York City, who was arrested in front of her daughter's school on West 97th Street and charged with visa fraud for allegedly paying her domestic helper just one-third the minimum wage, the Indian government has withdrawn security barricades outside the American embassy. Government officials have taken other retaliatory measures, including canceling meetings with a visiting congressional delegation. India is "shocked and appalled by the public embarrassment of the diplomat," Foreign Ministry Spokesman Syed Akbaruddin said yesterday.
Secretary of State John Kerry is trying to defuse tensions. According to a State Department statement, he called Indian National Security Adviser Shivshankar Menon to express regret and convey "his concern that we not allow this unfortunate public issue to hurt our close and vital relationship with India."
As ugly as this squabble has become, it may just be an opening act. A much bigger fight could come next year if, as appears likely, Hindu nationalist Narendra Modi becomes India's next prime minister. Modi is the candidate of the opposition Bharatiya Janata Party, favored to win national elections due to be held by May.
Many business leaders and investors love Modi, the chief minister of the western state of Gujarat. He has nurtured a reputation as a pro-business politician, which will serve him well as he goes up against Prime Minister Manmohan Singh's ruling Congress Party-led coalition, which has struggled under the weight of corruption scandals, persistent inflation, and lackluster growth. In what may be a harbinger of next year's poll, the BJP scored big victories in local elections in November and December.
Modi may be on track to be the next prime minister of the world's largest democracy, but for years he's not been welcome in the U.S. The Bush administration in 2005 prevented Modi from visiting the country—not only rejecting his application for a diplomatic visa but also revoking his existing tourist/business visa—because of concerns about his actions during 2002 rioting in his state, an event that killed thousands of people, mostly Muslims. As the U.S. ambassador at the time, David C. Mulford, explained in a statement, the State Department made its decisions based on U.S. law forbidding entry to any foreign government official who "was responsible for or directly carried out, at any time, particularly severe violations of religious freedom."
Would the U.S. be willing to continue excluding a Prime Minister Modi? Some U.S. lawmakers are trying to make sure he stays on the blacklist. Representative Joe Pitts, a Republican from Pennsylvania, and Representative Keith Ellison, a Minnesota Democrat, introduced a resolution last month calling on the State Department to maintain the policy preventing Modi from obtaining a visa. "Strands of the Hindu nationalist movement have advanced a divisive and violent agenda that has harmed the social fabric of India," the resolution states, pointing out that it wasn't just Muslims targeted in the 2002 rioting. "Christians were also victims in Gujarat, and many churches were destroyed." The resolution also cites approvingly a Human Rights Watch report on the 10th anniversary of the riots that charged, "Modi has acted against whistleblowers while making no effort to prosecute those responsible for the anti-Muslim violence." Modi has denied any wrongdoing, and a investigation by a panel under the Indian Supreme Court found no evidence he made decisions that prevented victims from receiving assistance.
Modi's economic policies have won admirers among some conservative politicians in the U.S. In March, former Speaker of the House Newt Gingrich tweeted about a Skype call with Modi "to talk about economic success of Gujarat." That same month Modi hosted a delegation of congressional Republicans including Representative Aaron Schock of Illinois, whom Modi called "an old friend of Gujarat." In August, Schock lauded the "honest, transparent, and open" policies in Modi's state, according to the Press Trust of India.
For the BJP leader, his visa problem has an upside, since as a victim of the Americans himself, Modi can now more easily take advantage of the brouhaha surrounding the arrest of the diplomat in New York. He took to Twitter yesterday to say he, too, was boycotting the congressional delegation: "Refused to meet the visiting USA delegation in solidarity with our nation, protesting ill-treatment meted to our lady diplomat in USA."
Before it's here, it's on the Bloomberg Terminal.
LEARN MORE