Best Month for Housing Starts Since February 2008
by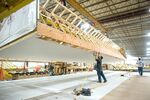 Homebuilders outdid themselves in November, starting construction on more homes than any of the forecasters surveyed by Bloomberg predicted. Starts rose 22.7 percent, to a seasonally adjusted annual rate of more than 1 million, according to the Commerce Department. That was the strongest month for housing starts since February 2008, nearly six years ago.
The one-month gain was the biggest since January 1990. Permits for future projects held near a five-year high, indicating the pickup will be sustained into 2014, Bloomberg observed.
Even before today's report came out, builders were in good holiday spirits. The National Association of Home Builders/Wells Fargo gauge of builder sentiment for December rose to 58, matching the highest level in eight years, the Washington (D.C.) group reported yesterday.
The Commerce Department released housing data for September and October, which was delayed by the partial government shutdown, at the same time as the November data. Starts fell 1.1 percent in September and rose 1.8 percent in October before their big 22.7 percent November spurt.
Analysts pounced on the numbers:
Goldman Sachs said the November jump couldn't be attributed to weather (the usual factor in up and down blips), because it was "unseasonably cold on a national average basis in November."
JPMorgan Chase said "today's report was broadly consistent with our view that activity in the housing market will pick up again following a soft period that followed the increase in mortgage rates around the middle of this year."
IHS Global Insight said one big factor in the pickup was easier lending conditions for builders. "Lending standards faced by builders have been easing moderately, in the face of continually strengthening demand for credit."
Capital Economics called the November starts "an encouraging sign that homebuilders have not been overly spooked by higher mortgage interest rates."
Before it's here, it's on the Bloomberg Terminal.
LEARN MORE