Yanukovych Meets Putin for Loan Talks Amid Protests
Daryna Krasnolutska, Kateryna Choursina and Olga Tanas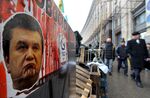 Ukrainian President Viktor Yanukovych is seeking as much as $15 billion in loans during a visit to Moscow today, while anti-government protesters in Kiev reject closer ties with the country's former Soviet master.
Ukraine's leader is meeting Russian President Vladimir Putin as his country is gripped by the biggest rallies in almost a decade. Russia's Finance Ministry said yesterday it's in talks about a loan for Ukraine, which is struggling with its third recession since 2008 and foreign-currency reserves at a seven-year low. The negotiations are for a loan of as much as $15 billion, two people familiar with the talks said.
"Ukraine is our strategic partner and ally in every sense of the word," Putin said at a joint news conference with Yanukovych as the meetings started in the Kremlin. The Ukrainian leader said that the agreements the two sides prepared "will allow us to improve significantly in different areas." Even if no deals are signed today, they will be "soon," Yanukovych said.
Protesters, angered by a police crackdown, are urging closer ties with the European Union. The nation of 45 million is a key transit land for pipelines taking Russian gas to western Europe. Russia may in exchange seek Ukraine's later entry to its customs union or demand stakes in the country's assets, said Joerg Forbrig, senior program officer for Central and Eastern Europe at the German Marshall Fund of the U.S.
'Not Naive'
"The Russians aren't so naive that they'll give Yanukovych a bag of cash and let him go home," Forbrig said in a phone interview from Berlin. "The customs union is off the agenda because Putin knows even talking about it -- let alone signing it -- would refuel protests in Kiev. This is a smart tactical move and shows how impressed they are with the protests."
The yield on Ukraine's dollar-denominated notes due 2023 declined 14 basis points, or 0.14 percentage point, to 9.79 percent as of 2:37 p.m. in Kiev, according to data compiled by Bloomberg.
Ukraine will probably get a discount for Russian natural gas of at least 25 percent from the price it now pays, according to Viktor Medvedchuk, a Ukrainian ally of Putin.
Gazprom Offer
Yanukovych said OAO Gazprom made an offer to Ukrainian gas utility NAK Naftogaz Ukrainy, adding that he "hopes" the two governments won't stand in the way of an agreement between the two companies. A decline in bilateral trade in the past two years "requires radical intervention," the Ukrainian president said.
"Russia knows it must stabilize Yanukovych because any other leader would be harder to control," Forbrig said.
The opposition is suspicious of Russia's motives.
"We are sure that everything is already decided: that Yanukovych will bring quite good loans, financial support, a new gas price," Vitali Klitschko, head of the opposition Udar party and a parliament member, told reporters in Kiev yesterday. "The question is, in exchange for what?"
Klitschko, in a comment today in Germany's Bild newspaper, urged designated German Foreign Minister Frank-Walter Steinmeier to come to Kiev as a mediator on his first trip. He also urged early elections in March, according to a statement on the Udar website.
Parliament Blocked
Parliament was due to meet today for the first time in Kiev today since police unsuccessfully tried to push protesters off Independence Square in the early hours of Dec. 11. Opposition politicians again blocked the rostrum and the session didn't begin, television Channel 5 showed in live footage. The opposition has been blocking the chamber since lawmakers failed to back a no-confidence vote to oust the cabinet of Prime Minister Mykola Azarov on Dec. 3.
Demonstrations have stretched into a fourth week, with hundreds of thousands turning out Dec. 15 to oppose the government.
"The longer the standoff goes on, the greater the risk that political uncertainty will raise demand for foreign currency, cause inward investment to dry up, or trigger capital flight," Fitch Ratings wrote in a note yesterday.
While the focus shifts to Moscow, the political crisis continues to reverberate in Kiev.
Leaders Fired
Yanukovych yesterday fired 24 regional administration leaders, including 13 from western Ukraine, according to decrees on his website. No reason was given for the dismissals.
Mykhailo Chechetov, a Ukraine Party of Regions governing lawmaker, said that cabinet changes will be made by year-end. Hanna Herman, another ruling-party lawmaker, said the party asked Azarov to change 90 percent of his ministers.
Yanukovych will dismiss Economy Minister Ihor Prasolov, Foreign Minister Leonid Kozhara and Industrial Policy Minister Mykhailo Korolenko for failing to inform the government in time about risks linked to signing an EU trade deal, Kommersant reported, without saying where it got the information.
Klitschko said firing some of the ministers wouldn't be enough. The opposition wants the dismissal of the entire cabinet, he said.
Borys Tarasyuk, an opposition lawmaker, said another anti-government protest is planned for today as a show of strength to coincide with Yanukovych's Russia trip to prevent him from signing up to the Russian customs union deal.
Mass Protests
Protesters have blocked Kiev's city center since last month when the government pulled out of the planned EU accord in favor of closer Russian ties. Hundreds of thousands joined competing demonstrations of the anti-government camp and supporters of Yanukovych on Sunday as the U.S. and the EU ratcheted up pressure on the administration.
EU foreign ministers met in Brussels yesterday with Russian Foreign Minister Sergei Lavrov and EU chief diplomat Catherine Ashton to discuss Ukraine. After the talks, Lavrov said he found support for what he termed "three-way talks" on Ukraine's possible free-trade deal with the EU.
"The EU door remains open to Ukraine, but clearly they are not willing or able to walk through it," U.K. Foreign Secretary William Hague told reporters in Brussels. "Ukraine should be able to decide on these things without external pressure."
Sanctions Threat
The U.S. threatened to impose trade sanctions on Ukraine over the crackdown on protesters and European lawmakers urged the 28-nation bloc to consider steps against Russia.
"Yanukovych needs the Russian money but is going to try to play for time," Fredrik Erixon, director of the European Centre for International Political Economy in Brussels, said in a phone interview. "Any move to the Russian customs union will energize protesters and if Yanukovych walks down this path he'll have to step up the brutality of his regime."
Anti-government protesters rebuilt barricades around the square that were removed by police last week. Fortifications include barbed wire, snow-filled sacks reinforced with logs, lumber and old tires. Alcohol is banned on the square by the organizers.
Erixon said it would be harder for Ukraine's government to order security forces to move against protesters than it would be in Russia.
"In Russia you have lots of people in power with KGB training," he said. "There's less of that in Ukraine and it's not as easy to get police and military to accept orders for a crackdown."
Before it's here, it's on the Bloomberg Terminal.
LEARN MORE