Ukraine Cuts a Deal It Could Soon Regret
By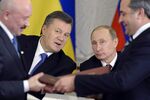 Ukraine has gotten some breathing room, but at what cost? President Viktor Yanukovych and Russia's Vladimir Putin today announced that Moscow will invest $15 billion in Ukrainian government securities while cutting the price Kiev pays for Russian gas imports by about one-third.
The deal provides an urgently needed infusion of foreign cash to prop up Ukraine's dwindling currency reserves and ensures the government can avoid politically unpopular gas price hikes before the 2015 elections. All told, the assistance will "be sufficient to sustain Ukraine's balance of payments for around two years," Neil Shearing, the chief emerging-markets economist at Capital Economics, wrote in a note to clients.
While that's good news in the short term, the deal threatens serious harm in the longer term. Russian aid is "a bandage on Ukraine's economic troubles rather than a serious remedy," says analyst Lilit Gevorgyan of IHS in London. Yanukovych "does not have enough political capital or indeed willingness to introduce required painful macroeocnomic measures," Gevorgyan says. "But these steps are essential for the overall health of the Ukrainian economy."
The cash infusion allows Kiev to maintain artificially strong exchange rates, which affects the attractiveness of Ukrainian exports. Discounted Russian gas takes pressure off the government to curtail ruinous budget deficits and enact market-friendly reforms—measures that are essential to pull Ukraine out of Europe's economic cellar.
There's also the question of what Russia wants in return for its help. "Russia is unlikely to simply become Ukraine's benevolent rescuer," Gevorgyan says. Putin is likely to seek "tangible gains, such as lucrative Ukrainian assets," as well as a bigger role in controlling the transit of Russian natural gas through Ukraine to the rest of Europe.
The agreement doesn't address the question of Ukraine's possible membership in a Russian-led customs union, an issue that has sparked mass demonstrations for several weeks by protesters who want Kiev to forge closer trade ties with the European Union. Yanukovych and Putin "are very careful not to mention this at the moment," says Joerg Forbrig, senior program officer for Central and Eastern Europe at the German Marshall Fund in Berlin. "Any talk at this stage would only reignite the process."
But, he says, Russia is determined to bring Ukraine into its trade orbit. Putin "will try to pressure Yanukovych into signing" in the coming months, as Russia plans to put the customs union into place by early 2015.
Could today's agreement with Russia defuse the protests? "Mobilization cannot be sustained over very long periods of time," Forbrig says, especially during a cold Ukrainian winter. And by leaving open the question of a possible trade deal, Yanukovych may have succeeded in muting the protesters' rallying cry.
Still, as street demonstrations swelled over the past few weeks, the protesters have been calling for Yanukovych to step aside and call new elections. Says Forbrig: "They may simply go back into the streets now and say, 'Our primary demand for new elections has still not been met.'"
Before it's here, it's on the Bloomberg Terminal.
LEARN MORE