Volcker, Greenspan, and Bernanke Unite for Fed's 100th Birthday
By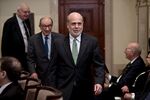 There were no balloons or party hats but if you're a Fed watcher, there was no bigger deal this week than the ceremony on Monday marking the centennial of the Federal Reserve. The audience of roughly 80 people in the Fed's boardroom on Constitution Avenue in Washington was the biggest gathering of current and former senior Fed officials in the bank's history, according to the master of ceremonies, Richmond Fed President Jeffrey Lacker.
The most interesting part of the afternoon ceremony, which has been posted on YouTube, was what former Fed chairmen Paul Volcker (1979-1987) and Alan Greenspan (1987-2006) and current Chairman Ben Bernanke (2006-present) had to say about each other. Their comments were both respectful and revealing.
In 2008 Volcker had seemed to take a shot at Bernanke in a speech about the Fed's $29 billion emergency loan that year that paved the way for JPMorgan Chase's takeover of Bear Stearns. "The Federal Reserve has judged it necessary to take actions that extend to the very edge of its lawful and implied powers, transcending in the process certain long-embedded central banking principles and practices," Volcker said in a speech to the Economic Club of New York.
Volcker, 86, made no mention of that episode on Monday, but he seemed to toss a garland in Bernanke's direction when he once again mentioned "strong actions, sometimes testing the limits of its legal authority," but this time added that those actions by the Fed "rested on a sense of integrity—integrity it's achieved and maintained over the years in the sense that it was able to act free of partisan political passions."
Alan Greenspan, 87, making scant reference to his predecessor or successor, focused his brief remarks on the biggest one-day collapse in stock prices in U.S. history on Oct. 19, 1987, shortly after he took office. He said "the days that followed that crash were truly frightening." Interestingly, Greenspan said that the crash itself, in which the Dow Jones industrial average fell nearly 23 percent, "is a distant memory of no ongoing interest." It remains of intense interest to scholars of financial-market instability, who fault Greenspan for putting too much faith in the self-stabilizing properties of markets.
Bernanke, a spritely 60 in his last year on the job, spoke after his elders, referring to them familiarly as "Paul" and "Alan." He said he keeps in his office a two-by-four length of wood that was mailed to Volcker as part of a protest by builders against his tight-money inflation-fighting policies, which depressed housing demand. He said the wood "communicates some distinctly unfavorable views of high interest rates and their effects." Of course, with the federal funds rate at 0 to 0.25 percent, Bernanke is more often criticized for keeping rates too low, not too high.
Under Bernanke's predecessors. severe financial crises had faded from sight. As Greenspan noted, the 1987 crash had no lasting effects. The Fed perceived its main job as setting interest rates correctly. Bernanke observed, though, that the Fed was born in response to the Panic of 1907. Without mentioning Volcker or Greenspan, Bernanke said, "In response to the Panic of 2008, the Federal Reserve has returned to its roots by restoring financial stability as a central objective alongside the traditional goals of monetary policy."
The birthday party was a few days early because it wasn't until Dec. 23, 1913, that President Woodrow Wilson signed the Federal Reserve Act. Presumably the Fed didn't want to wait until nearly Christmas Eve to celebrate.
Before it's here, it's on the Bloomberg Terminal.
LEARN MORE