The FDA Revisits a Decades-Old Debate About Antibacterial Soap
by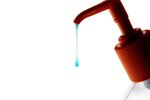 Killing the germs on hands isn't enough anymore—consumers are now disinfecting their entire bodies. Maybe you're emboldened by the thought of annihilating germs, but the U.S. Food and Drug Administration says the claims of some sanitizing products might all be baloney. It's also worried that the overuse of certain drugs—including the ones in soap and body wash—is making them less effective.
Just days after issuing a plan to phase out some uses of antibiotics in livestock, the agency announced it is now revisiting a long-standing debate about consumer antibacterial soaps.
For decades the FDA has questioned whether to update guidelines for antibacterial soap, but it hasn't gotten further than proposing rules. This time, spurred by a lawsuit from the Natural Resources Defense Council, it committed to finalizing a rule by 2016. Its latest proposal, published on Tuesday, would require companies to prove that their antibacterial soaps are more effective at preventing illness than plain soap and that they are safe for long-term daily use. It would not affect hand sanitizers such as Purell that use alcohol.
The agency says use of antibacterial soap containing triclosan and triclocarban has increased significantly in the past few decades. "There are indications that certain ingredients in these soaps may contribute to bacterial resistance to antibiotics, and may have unanticipated hormonal effects," states the FDA's website. The hormonal problems include infertility and early puberty.
Products with triclosan and triclocarban began showing up in hospitals in the 1950s and '60s. The FDA started investigating them in 1972 as part of guidelines that included other common cleaners, and it issued proposed rules in 1978. After concerns arose about overuse in 1994, the agency again issued proposed rules, which were never finalized. "Three decades of delay is outrageous," Avinash Kar, an attorney with the NRDC, said in a release in 2010. "FDA needs to issue a final rule on triclosan and triclocarban now, and that rule should ban both chemicals in hand soaps."
The Associated Press described the rise of antibacterial soaps in a 1999 story entitled "Despite Questions of Efficacy, Antibacterials Clean Up":
"The 1970s saw the advent of germ-killing soaps like Irish Spring and Lifebuoy, but most did not bear an antibacterial label.

"Liquid Dial, with an antibacterial formulation and label, was introduced in 1986, said Dial spokeswoman Nancy Stern. It was the first liquid antibacterial soap.

"Dial began stamping its bar soap with antibacterial labels in the early 1990s without changing the makeup of the soap, which had been around since 1972, according to Janet Donohue, a spokeswoman at the Soap and Detergent Assn. That practice is acceptable as long as companies reapply with the U.S. Food and Drug Administration.

"Other companies began introducing antibacterial soap three to four years ago."
If the proposed rule is finalized, companies that have not provided data to support their products' antibacterial claims will have to reformulate or relabel such products.
Before it's here, it's on the Bloomberg Terminal.
LEARN MORE