SquareHub's Dinner-Table Social Network
by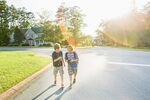 Dave Cotter was an executive at Internet giant Amazon when his marriage collapsed. His divorce spawned the kind of logistics challenges that sophisticated algorithms couldn't solve: how to coordinate with his ex on the care of his three daughters, and how to remain part of their special moments, even when he couldn't be there.
After he left Amazon in 2011, Cotter decided to pursue his own solution to these problems. His Seattle-based startup, SquareHub, has raised nearly $1 million from such Seattle-based angel investors as AOL board member Dawn Lepore and Amazon senior vice presidents Jeff Wilke and Brian Valentine. The service, which launched in May, is small but growing. It allows the "tens of thousands" of families that Cotter says have signed up so far to establish private groups and share calendars, photos, and status updates from their phones without exposing any private information to advertisers or the general public. "We are trying to build a digital family room, a place where everyone is essentially in the same place, sharing the kind of information that used to be on the fridge," Cotter says.
SquareHub is a new entry on the social networking scene, a rapidly shifting landscape that has recently favored specialized services such as Snapchat, a messaging service primarily used by teens, and NextDoor, an online hub for neighbors. While Facebook continues to reign supreme with more than 1.2 billion members, its executives conceded last fall that daily use may be declining among young teenagers. On Dec. 12, Facebook announced it would try to compete more effectively with Snapchat by beefing up the private messaging features on the photo-sharing service Instagram, which it acquired last year.
Ray Wang, an analyst with Constellation Research, says private messaging services are increasingly popular antidotes to wide-open social networks such as Facebook and Twitter. "Not everyone wants to be out there and to keep trading privacy for convenience," Wang says. SquareHub is "tapping into this family demographic that has the basic problem of scheduling and tracking events. They're creating a nice place where users trust privacy."
SquareHub functions as a kind of mashup of other social networks, including Facebook, Twitter, Foursquare, and Evite, but with high walls to keep out the public. Parents install the app on their kids' phones or tablets and they can share photos and updates, make plans, and assign events to shared calendars. Users who download the app can use sticker packs—icons that can be used to embellish photos. It's meant to keep kids engaged while providing a utility for mom and dad, who can also send e-mails or text messages to non-members—to invite them to a party, for example, with responses filtering back into the service. Unlike San Francisco-based private social network-maker Path, which has been accused of aggressively trying to entice its members' friends to join, SquareHub doesn't require anyone to join to receive these messages. Cotter says he doesn't want to be seen as trading user privacy for growth.
SquareHub faces a crowded field in which teenagers, not parents, often drive adoption and are unlikely to embrace less-popular services that isolate them from friends. Wang of Constellation Research says the biggest hurdle for the startup is simply combating social networking fatigue. He's implored friends to use it, and the response is often, "Oh god, not another social network." Cotter also needs to figure out a way to make money. The app is free, though he says SquareHub may charge for a premium version, sell sticker packs, or take a cut from any e-commerce purchases that families make on the service. He says he has no plans to allow targeted advertising.
Though it's young, SquareHub has some enthusiastic users. A testimonials page on the site includes families praising the service as a way to introduce preteens to social networking or to keep in close contact with late-teens once they depart for college. Cotter says the service has also aided his own modern family. He says he's now coordinating extremely well with his former spouse and that family frictions have decreased. Using the app "has allowed us to get along better than we have in years," he says.
Before it's here, it's on the Bloomberg Terminal.
LEARN MORE