Remember Cronuts? So Does Everyone Else on the Internet
By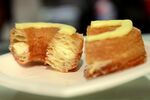 For a brief moment, the elusive cronut was just a mouse-click away.
The endlessly imitated authentic, original pastry invented at Dominique Ansel's tiny Manhattan bakery—where desperate devotees still line up for hours—was available in an online flash-sale over weekend. Did foodies recreate an hours-long digital line for the chance to order a maximum of two cronuts? Yes, duh.
Online specialty foods retailer Goldbely.com released a few hundred of the pastries for sale in limited batches, from Friday evening through Sunday, priced at $5 each—the same price as at Ansel's shop—with the website picking up shipping costs. The sugary cargo will begin arriving today.
Goldbely worked with Dominique Ansel for about seven months on the details of the sale, including the tricky question of how to ship highly perishable pastries without compromising quality. They did more than 20 test shipments before finding a solution: Flash-freeze the cronuts and ship them in dry ice. The packages are sent via FedEx with instructions to let the pastries sit in open air for about an hour before consuming them. "They're crispy, chewy, and delicious," says Joe Ariel, founder and chief executive of San Francisco-based Goldbely.
The supplies available online sold out, surprising no one. "We anticipate we'll do it again soon, but no exact dates are set," Ariel says. Those who missed out on this round, like this person on Twitter, might get a second chance.
Ansel has no problem selling cronuts—lines form outside for the roughly 300 the bakery makes every day—and limited quantities only fuel the craze. Goldbely wanted in on the mania badly enough to ship each cronut at a loss. What does the specialty-foods startup get? The chance to publicize its mission "to discover the most outlandishly delicious handmade foods in every city across the USA, and ship them to your door," as its website puts it. Goldbely also works with such well-known gourmet businesses as Momofuku Milk Bar and Peter Luger Steakhouse.
"[The cronut's] the hottest food item in the universe. We knew it would take on a frenzy," says Ariel. "This wasn't a money-making mission for us."
Before it's here, it's on the Bloomberg Terminal.
LEARN MORE