RBA Failure to Follow Words With Action Loses Impact: Currencies
Candice Zachariahs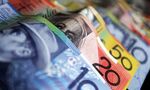 Reserve Bank of Australia Governor Glenn Stevens, who has favored using words to push down the nation's currency, may need to resort to action.
The odds of Australia's dollar reaching the level favored by policy makers are smaller now than when they last cut interest rates in August. Options prices show there's a 61 percent chance the Aussie will weaken to 85 U.S. cents by mid-2014, down from 72 percent on Aug. 5. That's a day before the central bank lowered the main rate and when the currency was at a three-year low of 88.48, about half a cent below current levels.
While Stevens has spurred a 7 percent drop in the Aussie since October by suggesting he may weaken the currency through intervention, he's stopped short of acting on the warnings since the last rate reduction. Westpac Banking Corp. and other lenders say his reluctance is harming Australia's competitiveness by limiting the local dollar's declines.
"There's a big difference between verbal intervention and physical intervention," Robert Rennie, the global head of currency and commodity strategy at Westpac in Sydney, said in an interview yesterday. "The Australian economy needs more stimulus."
'Take Care'
The Aussie has tumbled 14 percent this year, headed for its biggest annual drop since falling 20 percent in 2008, data compiled by Bloomberg show. The currency started its most recent slide days before Stevens warned speculators on Oct. 29 to "take care" about backing the local dollar.
He has called for a lower exchange rate at least four times since then, seeking to spur growth in spending, construction and manufacturing as the economy struggles to diversify amid a drop-off in mining investment.
Further depreciation in the currency may be harder to win as traders add to bets the Reserve Bank of Australia won't reduce its record-low main rate from 2.5 percent, which along with New Zealand's is the highest among developed nations.
After predicting one more cut after the August reduction, markets are now pricing in 10 basis points, or 0.1 percentage point, of increases over 12 months, a Credit Suisse Group AG swaps index shows.
Fundamentals Win
Yields on Australia's two-year bonds, which are more sensitive to policy expectations than longer-term securities, have climbed 16 basis points since Sept. 30 to 2.61 percent. That's the biggest increase among 22 developed markets after New Zealand's 19 basis-point jump.
"Continued jawboning can keep the currency down for a while, but unless there is a policy action follow-through, sooner or later fundamentals will win," Jonathan Lewis, the New York-based chief investment officer at Samson Capital Advisors LLC, said in a Dec. 13 e-mail. "Given that Australian rates are actually rising, perhaps the bond market smells growth."
Australia's economy will expand 2.7 percent next year and 2.9 percent in 2015, beating the 1.96 percent and 2.2 percent growth rates across the Group of 10 developed nations, estimates compiled by Bloomberg show.
The Aussie is "very good value" at 89 U.S. cents, said Lewis, whose firm oversees more than $7 billion including the Strong Nations Currency Fund.
'Uncomfortably High'
Strategists surveyed by Bloomberg expect Australia's dollar to weaken to 89 U.S. cents by June and 88 by December, from 89.05 at 2:09 p.m. in New York. Westpac sees a drop to 88 by the end of 2014, with more accommodative monetary policies in other developed markets preventing a bigger decline.
Stevens said Nov. 5 that the Aussie was "uncomfortably high" in a statement accompanying the RBA's decision to keep interest rates unchanged. Stevens repeated that language after a Dec. 3 central bank meeting, even after the currency had slid more than 4 percent in the intervening month.
The RBA chief sent the local dollar skidding Nov. 21 when he said that, while the benefits of intervention haven't "so far" outweighed the costs, it "doesn't mean we will always eschew" currency sales.
Stevens cited 85 cents as his preferred level in an Australian Financial Review interview published Dec. 13, prompting a drop in the currency that capped eight straight weeks of declines, the longest stretch since 1985.
Fed Taper
The Aussie was on average 0.5 percent lower four hours after the RBA made "stronger" comments that the currency was too high, according to a Westpac study of 51 instances of "jawboning" over a year and a half.
Australia's dollar will fall amid an anticipated reduction in the Federal Reserve's $85 billion of monthly bond purchases that will prop up the U.S. currency, said Richard Grace, the Sydney-based head of foreign-exchange and rates strategy at Commonwealth Bank of Australia, the nation's largest lender.
RBA policy makers anticipate that the Fed taper "will do some of the work for them," Grace said in an interview. "We can see the Aussie trade lower over the course of 2014 into the low 80-cent area, but I think it will come back to current levels by the end of next year." CBA predicts the central bank will raise its benchmark rate in the final quarter of 2014.
Stevens told the Financial Review last week that he hopes the Fed will taper stimulus "before too much longer," and that the Aussie will adjust "some more" when that happens. U.S. central bankers will announce a reduction in their bond-purchase program at the end of a two-day policy meeting tomorrow, said 34 percent of economists surveyed Dec. 6 by Bloomberg.
The Stevens interview "was the pinnacle of the RBA's impact from jawboning, and I suspect they will step back now," Gregg Gibbs, a currency strategist at Royal Bank of Scotland Group Plc in Singapore, said in a Dec. 13 phone interview.
"You start to lose effectiveness the more you speak," he said. "They've had their best impact."
Before it's here, it's on the Bloomberg Terminal.
LEARN MORE