Portugal Will Dig Up Alternatives If Court Blocks Plans, EU Says
Joao Lima and Anabela Reis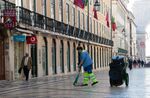 The Portuguese government will find alternatives to meet its 2014 budget deficit target if the country's Constitutional Court blocks plans including changes to state pensions, the European Commission said.
"If some of these measures are determined to be unconstitutional, the government has re-affirmed its commitment that it will then identify and implement compensatory measures of high quality to meet the agreed deficit target of 4 percent of GDP," according to a statement from the commission. "Such measures, however, could heighten risks to growth and employment and reduce the prospects for a sustained return to financial markets."
The court is due to rule this week on measures that would lead to a 10 percent reduction in pensions being paid to state workers and generate estimated savings of 728 million euros ($1 billion) next year, according to the 2014 budget. President Anibal Cavaco Silva on Nov. 23 asked the court to review the government's plan, which aims to make the social protection regime of state workers converge with the general social security regime of private sector workers.
While Portugal emerged from its longest recession in at least 25 years in the second quarter, Prime Minister Pedro Passos Coelho still has to trim spending by 3.2 billion euros next year to meet targets in the country's aid plan after relying mostly on tax increases this year. Coelho is trying to regain full access to debt markets with the end of Portugal's 78 billion-euro bailout approaching in June.
Constitutional Court judges have already blocked government measures three times this year, including pay cuts for state workers. The 2014 budget includes 1.3 billion euros of reductions to personnel costs.
Court Reviews
After the budget plan comes into force in January, members of parliament as well as the president can refer the budget to be reviewed by the 13-member court, the country's highest judicial body.
The government had to propose alternative measures after the court on April 5 blocked a plan to suspend the equivalent of a monthly salary payment to state workers and pensioners. That plan represented 1.3 billion euros of savings in 2013, or about 0.8 percent of the country's gross domestic product of 164 billion euros.
In August, the court blocked a proposal to end labor contracts of some state workers that was part of a government plan to "requalify" some public employees. A month later, it ruled against some measures making it easier for companies to fire workers. On Nov. 25, the court let stand a government plan to increase working hours for public employees.
Market Financing
"Evidently the government will not speculate about issues that are being assessed by the Constitutional Court," Vice Premier Paulo Portas said at a press conference in Lisbon yesterday. "We will comply with the court's decisions and we will meet the objectives" set in the aid program, Portas said.
The 2013 budget deficit target of 5.5 percent of GDP is "achievable," the commission said in the joint statement with the European Central Bank and the International Monetary Fund about the 10th review of the Portuguese aid plan. "Public debt remains high but is sustainable provided program implementation and reaffirmed ownership remain resolute, thereby supporting the government's return to full market financing."
Portugal plans to sell bonds early next year as investors from Scandinavia and the euro area return to its market following the financial crisis, Joao Moreira Rato, head of the nation's debt agency, said in a Dec. 6 interview. The sale will probably be arranged via banks and will help address next year's funding needs of about 7 billion euros, he said.
Bailout Exit
The country's 10-year yield was at 6.03 percent as of yesterday, still higher than in May, when the rate reached the lowest since 2010 and Portugal last sold bonds. The government pays 3.2 percent on its bailout loans and its debt is ranked below investment grade by Fitch Ratings, Moody's Investors Service and Standard & Poor's.
Portugal now only has two reviews left to complete its bailout plan.
Finance Minister Maria Luis Albuquerque yesterday said Portugal's exit from its bailout program may start being discussed at the January Eurogroup meeting of euro-area finance ministers.
Before it's here, it's on the Bloomberg Terminal.
LEARN MORE