Old-Line Company Finds New Adrenaline Rush in Bespoke Design
by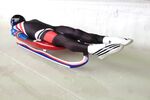 Luge is a high-risk adrenaline rush of a sport. It's a good one for a commodity chemical maker to associate with to show how it has become a brand-savvy intellectual property juggernaut.

Olympic lugers zip down mountainside ice sheets on their backs at 90 miles an hour. Their victories are measured in thousandths of a second, and potential accidents lurk at every turn. Competitors entrust their careers -- and their lives -- to sled designers, and tend to have an idea or two about how their luges should perform.
You can't just buy a world-class sled off the shelf. That's a shame, since the U.S. luge team's sled designer last year left to join the Russians, who have been snapping up top winter-sports coaches to manage the 2014 Sochi games' home team. The former U.S. designer quit the group before they could upgrade their sleds, conventionally hand-built from laminated wood.
More from the special report, Make It Last: Designing for the Ages

The Americans have never won a gold medal in luge at the Olympics, and faced dim prospects for the Winter Games in Sochi.
Kennedy, a three-time Olympian and the first American to win a World Cup in the sport, turned to Dow Chemical Co., the largest U.S. chemical company, for help. The company had consulted with the team periodically since 2007. While it had never made sleds, its engineers had access to more than 5,000 materials and experience helping design lighter, faster and safer cars for Renault and Ford, among others.
Dow's role in the redesign of the U.S. Olympic sled isn't just about the sled. It's about how old-school industrial companies like Dow are exiting commodity businesses, and rebranding themselves as IP-driven problem-solvers offering bespoke solutions to businesses' woes. Dow has invented lighter, stronger materials for automakers facing tighter fuel-economy standards, more effective water-treatment systems for strained cities, and more resource-efficient packaging.
It doesn't hurt that branding exercises like luge-making and Olympic sponsorships help Dow burnish its reputation to smooth entrances into new markets and recruiting. And it's not just Dow. Everybody's doing it.
"This story is about getting shareholder value over the long term," James Cerruti, senior partner at Brandlogic, said about Dow's foray into winter sports. "We know that people with science backgrounds really do want to work for companies that are solving these problems, and taking them seriously."
Getting up to Speed
A group of designers for the Midland, Michigan, company, led by Jay Tudor, a chemical engineer, and Scott Burr, a mechanical engineer, first met with the luge team in February 2012. Tudor and Burr boned up on luge, picked apart the existing sled design and listened to what changes the team wanted.
Watch Dow CEO Andrew Liveris on Bloomberg TV
They took a scientific approach to the improvement of the runners, called kufens, that hold the steel blades to the sled. It's the most critical and least understood part of the sled, Kennedy said. As more shortcomings of the team's equipment emerged, the scope of work quickly expanded to a redesign of the entire sled.
"We knew we needed to get on board with the modern age, and it's proving to make the difference," Kennedy said of the partnership with Dow.
Dow's engineers optically scanned prototypes so they could study and digitally alter each part as they experimented with new designs. Computer simulations analyzed weight distribution and the effects of high-speed vibration. Hitting the sweet spot between stiffness and flexibility is critical on a vehicle that riders control by shifting their body weight.
There's little room for error. A Georgian athlete, Nodar Kumaritashvili, died during a luge training run at the 2010 Winter Olympics in Vancouver after losing control on a turn and flying into a metal pole. The International Olympic Committee modified the curve in the aftermath of the accident.
After reviewing about a dozen prototypes, Dow and the luge team settled on five new materials for the sled. Most of the specifics are secret -- "It's very much spy versus spy out there," Kennedy says -- but it does contain light, strong carbon fiber.
The carbon fiber is a material used increasingly by automakers in their quest for fuel efficiency and came from a joint venture between Dow and Turkey's Aksa Akrilik Kimya Sanayii AS. It has never been used in a U.S. luge and may be unique in the sport, Kennedy said.
Readying for Russia

Dow agreed three years ago to sponsor the subsequent five Olympic summer and winter games because it saw an opportunity to sell $1 billion worth of products to host countries through 2020, said George R. Hamilton, vice president of the company's Olympic operations. Its products, from insulation to wire and cable coatings, are found throughout venues and infrastructure at Sochi, he said. Energy efficiency improvements that Dow is undertaking across the Russian Federation are expected to help the Olympics offset the travel of competitors, fans and media to Sochi.

The biggest benefit for Dow in these Olympic Games may be showcasing how it can provide solutions to technical problems.
Success has been measured in track results. Last winter, team member Taylor Morris, 22, from Salt Lake City, set an unofficial course record while training in Sochi on the new sled. Then he did it again. Momentum is important for the team as it heads into the Olympics.

"To see the men running that quickly is very promising," Kennedy says. "I'm floored with how quickly things have come around."
Before it's here, it's on the Bloomberg Terminal.
LEARN MORE