Billionaire Cheng's NWS to Buy Stake in Beijing Airport
Joshua Fellman and Jasmine Wang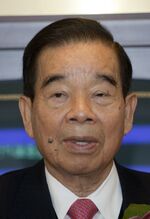 NWS Holdings Ltd., controlled by Hong Kong billionaire Cheng Yu-tung, agreed to buy a stake in the operator of China's biggest airport from sovereign-wealth fund GIC Pte, betting on a surge in travelers.
NWS will buy 8.8 percent of Beijing Capital International Airport Co. for about HK$2.36 billion ($304 million), according to a Hong Kong stock exchange filing yesterday. The purchase of 383 million shares at HK$6.15 apiece will give the transportation unit of New World Development Co. a 20.4 percent stake in the airport operator's Hong Kong-listed H shares.
The acquisition, at a 2.1 percent discount to the stock's closing price yesterday, gives NWS an exposure into the booming air travel market in Beijing, ranked the world's second-busiest airport after handling 82 million passengers last year. As disposable incomes rise in China, there is "potential growth" in revenue at the airport from retail concessions, advertising and rentals, NWS said in its statement.
"Beijing Capital International Airport is a quality infrastructure asset with substantial stature and a key correlation to the continuous growth of China's economy," NWS said in the filing. It's NWS's first investment in an airport, according to an e-mail from the company today.
NWS shares fell 3.3 percent to close at HK$11.72 in Hong Kong trading. Beijing Capital International Airport gained 0.3 percent to HK$6.30. The city's benchmark Hang Seng Index rose 0.3 percent.
Billionaire Cheng
GIC owned 413.9 million H shares in Beijing Capital International Airport as of Dec. 31 last year, according to data compiled by Bloomberg. GIC declined to comment in an e-mail.
Beijing, with an airport code PEK, handled 82 million passengers in 2012, an increase of 4.5 percent, according to the International Air Transport Association. Atlanta was the world's busiest, handling 95.5 million passengers.
Cheng is Hong Kong's fourth-richest man with a net worth of $20.1 billion, according to the Bloomberg Billionaires Index. Cheng owns 89 percent of Chow Tai Fook Jewellery Group, the largest jeweler in China and Hong Kong. Through Chow Tai Fook Enterprises, his closely held investment company, Cheng also controls New World Development, a land developer with holdings in hotels, retail, infrastructure and public transportation.
Before it's here, it's on the Bloomberg Terminal.
LEARN MORE