Not Even Michael Jordan Can Beat the Real Estate Market
By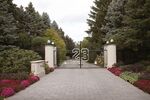 Michael Jordan is having no luck selling his former home outside Chicago. In February 2012, he put the 56,000-square foot house on the market for $29 million. (With his kids grown, Jordan now splits most of his time between Charlotte, N.C., where he owns the NBA's Bobcats, and Jupiter, Fla., where he and his wife of eight months, Yvette Prieto, share a modest, 28,000-sq.-ft. home.) After a year, Jordan dropped the asking price to $21 million.
In October, still without a buyer, he decided to put the house up for auction. The first date, set for November, was postponed. "The interest has been even stronger than we anticipated," the auction house told the Chicago Tribune. At the rescheduled sale on Monday, no bidders met the $13 million reserve price. Jordan's spokesperson told the Associated Press that he'll wait until next year to decide what to do.
It would be easy to see this a tale of hubris. Jordan, a man accustomed to bending the world to his will, can't accept his powerlessness before laws of supply and demand. And that may be so. "The Chicago market, whatever it is," says Kathryn Steinberg, a luxury broker with Brown Harris Stevens in Manhattan, "told Michael Jordan that no, even with you, this property is not worth that." To think that anyone will pay a premium to live where a celebrity once did, says Steinberg, who frequently deals with high-profile clients, is a common folly. "A broker will often overprice a celebrity apartment because they think that the so-called provenance will increase the value."
Yet using celebrity to drum up interest, as Jordan's brokers have done, is a smart move. The trick in setting an asking price, says Steinberg, is going as high as possible without discouraging potential buyers from browsing. "And when it comes to a celebrity property," she says, "people are going to want to see it." This means the seller can start especially high and hope for some dumb money to stumble in. "You never know, it only takes one person," she says. But most of the time, in a market this rarefied, buyers are educated. There are no Jordan Rules in real estate.
Before it's here, it's on the Bloomberg Terminal.
LEARN MORE