Fold-up Jets Could Help Biggest Planes Find Better Parking
by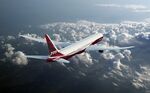 If you're going to redesign a commercial aircraft, you might start by considering what about air travel needs fixing -- or will a decade from now. The bumpy shuttle out to the plane itself. There's the wait to load everyone on the tarmac, and of course, the annoying bus ride to the terminal once you arrive.
What you might want is a plane designed to anticipate airport crowding in an increasingly mobile world. Here's an idea: give it folding wingtips to gain access to gates built for smaller planes.
That's what Boeing Co. is doing by outfitting the first jetliner it will launch in the 2020s, the 777x, with wingtips that do just that. At 233 feet, the plane's wingspan is the widest ever built by the Chicago-based planemaker. The 777X's extreme wings provide state-of-the-art aerodynamics but would be a liability on the ground, if not for nifty hinges 11 feet from the tips that bend up after landing.

More from the special report, Make It Last: Designing for the Ages

Thanks to a sculpted, composite wing borrowed from Boeing's 787 Dreamliner, the 777X will be the first twin-engine jet to haul a jumbo's payload of 400 passengers. It will also burn less fuel than smaller competitors, such as Airbus SAS's A350-1000.
Aircraft designers may adopt the concept for other long-range jets if Boeing's folding mechanism is light, reliable and foolproof, says Robert Mann, who heads aviation consultants R.W. Mann and Co., based in Port Washington, New York. 'Foolproof' in this instance means high confidence that wingtips would never flip up during flight.
"It's a great concept," he says. "God forbid one ever fails."
A Design Response to Crowding

Boeing's engineers have developed a "landing-gear-door kind of simplicity and reliability" in the technology that folds and unfolds the new jet's wingtips, said Bob Feldmann, vice president and 777X program manager. "The folding wingtip is a critical element of the architecture of this airplane," he said.

Without that feature, the jet's 233-foot wingspan would restrict it to the dozen or so airports worldwide whose taxiways and parking positions have been widened to handle jumbo jets like Airbus's A380 and Boeing's 747-8.
Gate space is already tough to come by for 777s at crowded airports, like Sao Paulo's Guarulhos International, and will become a precious asset in as air travel grows, says Geert Boven, a senior vice president with Etihad Airways, a 777X customer.
Boeing predicts that global air traffic will continue to grow 5 percent a year over the next two decades, while the total number of planes in service doubles to 41,240 from 20,310 at the end of 2012. Gate gridlock, from London to Sao Paulo to Tokyo is only going to grow worse.
While naval fighters have used folding wings for decades to fit on to cramped aircraft carriers, planemakers have been slower to adapt the technology for passenger transport because of airlines' concerns that doing so would add fuel-burning weight and maintenance headaches.
"Simpler is easier," says Andrew Studdert, a former chief operating officer for Chicago-based United Airlines. "Given a choice, I'd go with a wing that doesn't fold."
Out on a Wing
Engineers at McDonnell Douglas Corp. designed a folding wing for the MD-12, a double-decker jumbo jet that was on the drawing board, before the aerospace company was acquired by Boeing in 1997, says Adam Pilarski, a former chief economist and director of strategic planning at McDonnell Douglas.
Boeing had designed an optional folding wing for the original 777s in the early 1990s at the prodding of Bob Crandall, then chief executive officer of American Airlines. He wanted Boeing's largest twin-engine jet to fit into airport gates designed for 1970s-era twin-aisle jets.
It never worked out. American decided not to order the jet, while other customers balked at the added weight of the hydraulic mechanism and complexity of repairing breakdowns.
Boeing's original design was heavy and complex, Feldmann says. The updated version moves the folding mechanism further down the wing, where there are no hydraulics or flight-control surfaces to contend with -- just wiring for marker lights.
While Boeing won't disclose how much weight the folding mechanism adds to the 777X, the amount isn't "significant," says Scott Lefeber, a Boeing spokesman. "The benefit you gain by adding the extra wingspan far outweighs the additional weight."
'A Paper Aircraft'
Pilots will manually unfold the 777X wing as they taxi to a runway for takeoff, Feldmann says. Boeing and carriers are still deciding whether the wing will automatically fold when the plane reaches a safe speed after landing, or if this task will be left to pilots, he says.
Deutsche Lufthansa AG, the first airline to order the 777X, studied the folding mechanism closely before placing an $11 billion order in September, Christoph Franz, chairman and CEO of the German flag carrier said in a November interview.
"It was clear right from the beginning that Boeing would have to find an acceptable solution," Franz said. "We feel comfortable. It's still a paper aircraft, of course."
When the 777X begins commercial service in 2020, its long, thin wings and new General Electric Co. engines will make it 12 percent more fuel-efficient than the competing Airbus A350-1000, and 20 percent more than Boeing's 777-300ER, Feldmann says.
"The thinner and more glider-like the wing, the better the performance of the airplane," says Pilarski, now a senior vice president at Avitas Inc., a Chantilly, Virginia-based consultant.
Airbus is in no rush to get a larger A350 model to market, according to the company's chief operating officer, John Leahy. Stretching the A380 to seat more than 700 people is technically possible and could be expected by 2030.
"We look at new technologies and innovative ways to constantly keep our product line at the cutting edge," responds Chris Emerson, an Airbus senior vice president and head of marketing. "Folding wings, though they may work in a military environment, are not suited, at least with today's technology, to the demanding world of commercial aviation which requires ever higher levels of maturity and reliability."
Before it's here, it's on the Bloomberg Terminal.
LEARN MORE