Ecuadorians Win the Right to Pursue Chevron in Canada
Paul M. Barrett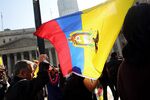 In a big day for high-stakes oil pollution litigation, Chevron lost a round in its campaign to squelch a multibillion-dollar contamination verdict in Ecuador. An appellate court in Ontario ruled that a group of Amazonian rain-forest residents may move ahead with a suit seeking to seize Chevron assets in Canada as a way of enforcing their 2011 victory in Ecuador.
Large corporations are trying increasingly aggressive legal tactics to reduce their liability in mass lawsuits. BP, for example, today filed a fraud suit in federal court in New Orleans against a prominent Texas plaintiffs' attorney in a clash related to tens of thousands of claims from the 2010 Gulf of Mexico oil spill.
Separately, in Canada, the Court of Appeal for Ontario said that the Ecuadorian plaintiffs could try their luck in the Canadian judicial system after Chevron flatly refused to pay up on a $9.5 billion judgment in Ecuador. The Canadian ruling was not a victory on the merits for the rain-forest residents fighting Chevron.
The oil company has vowed never to comply with the 2011 Ecuadorian judgment, which Chevron claims was based on judicial coercion, fabricated evidence, and bribery. In fact, Chevron has sued the main American lawyer for the Ecuadorian plaintiffs, Steven Donziger, accusing him of running what amounts to a racketeering conspiracy designed to shake down the company. He denies those allegations, and a federal judge in New York is expected to rule in coming months. If it wins in New York, Chevron has said it will use that finding to argue to courts in Canada and other countries that the Ecuadorian judgment does not deserve to be enforced—anywhere.
In May, a Canadian trial judge blocked the Ecuadorian residents from proceeding with their enforcement action in Ontario. The appellate court today said the judge had been mistaken, and the Ecuadorians deserve a chance to make their case that they have a right to seize Chevron assets in Canada.
"In these circumstances, the Ecuadorian plaintiffs should have an opportunity to attempt to enforce the Ecuadorian judgment in a court where Chevron will have to respond on the merits," the appellate court said. "That the plaintiffs in this case may ultimately not succeed on the merits of their recognition and enforcement action, or that they may not succeed in successfully collecting from the judgment debtors against whom they bring this action," aren't relevant factors in deciding whether to allow them to present their claims against Chevron, the court added.
In an e-mailed statement, Donziger called the decision "a stunning reversal of fortune" for Chevron. In its press release, Chevron said it "is evaluating next steps, including a possible appeal of today's decision to the Supreme Court of Canada."
Before it's here, it's on the Bloomberg Terminal.
LEARN MORE