China Cracks Down on Bad Drugs with "Illegal, Psychedelic or Poisonous Ingredients"
by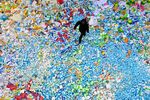 China's knows it has got a big problem with fake and harmful drugs. The country's latest crackdown shows how the Chinese Internet has given a new, unfortunate, boost to the illicit trade.
China's headache with bad drugs certainly isn't new. Way back in July 2007, China's top food and drug regulator Zheng Xiaoyu was executed for corruption. His crime: taking bribes for safety approvals of substandard drugs, causing at least 10 deaths, China's media reported at the time.
Earlier this year, Beijing created a newly strengthened China Food and Drug Safety Administration, "marking a more powerful watchdog to address the country's accumulating food safety concerns," announced Xinhua in March.
The latest crackdown, launched in June, sounds successful. It also illustrates just how serious the problem has become, with purveyors of dodgy pharmaceuticals rampant on China's Web.
Police announced on Saturday that they had arrested over 1,300 people suspected of illegal drug sales over the Internet in the last six months. Public security officials from 29 provincial regions across China shut down 140 unlicensed websites and online drug stores.
All told, more than nine tons of raw materials used in fake pharmaceuticals were seized, reported government website China.org on Dec. 15. And while a main ingredient of the fake drugs was starch or spoiled materials, some "contained illegal, psychedelic or poisonous ingredients that may harm user's health," said the report.
Before it's here, it's on the Bloomberg Terminal.
LEARN MORE