American Airlines Lets Employees Pick its Paint Job
by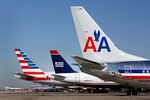 Before its merger with US Airways, American Airlines was involved in a wholesale repainting of its fleet to signify the new company that was emerging from bankruptcy. A lot of new, carbon-composite airplanes could no longer handle the unpainted, shiny silver design that American had used since the 1960s.
Post-merger, however, the question of how to repaint some 620 jets with US Airways logos looms even larger, and American has decided to let its workforce make the decision as to how to decorate the aircrafts' tail sections. The choice will be either to keep the old AA silver logo or to adopt the new red, white, and blue-painted livery that American selected in January.
This probably amounts to an effort to signal an inclusive management style, as executives commence the onerous and difficult work of merging two airline—and all the friction this will involve.
"While I enjoy debating the merits of certain aircraft liveries as much as anyone, I have always believed they are not particularly important to the success of an airline," American Chief Executive Officer Doug Parker wrote on Monday in a memo to the company's 100,000 employees. "For our team members who work in, around and on these aircraft day in and day out, it matters a great deal, but I have yet to find a customer who based their purchase decision on the exterior design of the airplane."
"We have heard from many employees that they miss the old AA with the eagle," Parker said. Voting will end on Jan. 2.
Before it's here, it's on the Bloomberg Terminal.
LEARN MORE