Amazon May Get Its First Labor Union in the U.S.
Technicians in Delaware will vote on whether to organize
By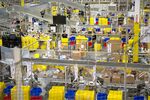 Amazon.com's labor problems have mostly been confined to the online retailer's warehouses in countries such as Germany—until now. For the first time, employees in a U.S. Amazon facility have successfully petitioned the National Labor Relations Board to hold union elections.
On Dec. 6, the International Association of Machinists and Aerospace Workers (IAMAW), a trade union of the AFL-CIO, filed a union election petition with the National Labor Relations Board on behalf of 30 equipment maintenance and repair technicians working at the year-old Amazon fulfillment center in Middletown, Del. The fact that the petition was filed suggests, according to the union, that it has interest from at least a majority of those 30 workers, who are seeking to vote on whether to hold elections to establish a union.
According to John Carr, a spokesman for the IAMAW, Amazon and the union have now reached an agreement to go forward with this election. It will be held on Jan. 15 in a conference room at the Delaware facility; only members of the group of 30 technicians will be allowed to vote. The vast majority of workers at the year-old facility—more than 1,500 pickers and packers who move products from shelves into boxes and trucks—will not vote, nor will they be covered by the union if the technicians vote to form a collective bargaining group.
Amazon has successfully fought such efforts in the U.S. for years. In 2000, workers at a customer service call center in Seattle lobbied to form a union and met with stiff resistance from the company. Amazon ultimately closed the facility during a broader retrenchment during the dot-com bust. In cases over the years where labor organizers passed out union literature outside Amazon facilities and tried to foment union activity, Amazon managers have reacted swiftly, meeting with workers and explaining the company's strong opposition to organized labor.
"We respect the individual rights of our associates and have an open-door policy that allows and encourages associates to bring their comments, questions, and concerns directly to their management teams," said Mary Osako, an Amazon spokesperson. "We firmly believe this direct connection is the most effective way to understand and respond to the needs of our workforce and do not believe there is a need for third-party representation. Amazon's culture and business model are based on rapid innovation, flexibility, and open lines of direct communication between managers and associates."
Amazon is facing a small but growing drumbeat of dissatisfaction in its sprawling network of 96 centers around the world. Workers in Germany have gone on strike several times this year, and this week organized demonstrations outside Amazon's Seattle headquarters, though they have had more success garnering headlines than slowing down Amazon's operations during the holiday season. Critical articles about the pace, pay, and quality of work in Amazon's fulfillment centers have also appeared in outlets such as Mother Jones, the Guardian, and the BBC.
Over the next month, the battle in Middletown is likely to be hard-fought. Amazon has hired the services of law firm Morgan, Lewis & Bockius to aid it in the matter. Outside law firms typically help companies wage their election campaigns and make the case to employees why they are better off without union representation.
While the stakes appear small, the union says it's a foot in the door at Amazon. "Can this turn into other locations, or more people in that location? That is certainly the interest for any labor organization," Carr says. "I certainly imagine there's an interest somewhere else in that particular facility, and if not, we hope to stimulate some."
BOTTOM LINE -
The bottom line: In a first, Amazon workers have successfully petitioned the National Labor Relations Board to hold a union election.
Before it's here, it's on the Bloomberg Terminal.
LEARN MORE