Zurbruegg Says SNB Fully Flexibile on Currency Reserves
Catherine Bosley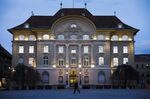 The Swiss National Bank is able to keep its foreign-currency reserves at a level in line with monetary-policy needs, according to Governing Board Member Fritz Zurbruegg.
"We're in the very fortunate situation that we don't have any legal requirement to reduce that over time," Zurbruegg said in a speech in Zurich late yesterday. "We have full flexibility to maintain whatever level we think is appropriate from a monetary-policy stance."
The SNB has amassed record foreign-exchange reserves through currency-market interventions to defend the cap of 1.20 per euro it set on the franc in September 2011. The holdings equal about three quarters of the economy's annual output and are primarily invested in euros and dollars.
"If necessary we will keep to whatever stock we have, otherwise our policy would be slightly less credible," Zurbruegg said. "We take care not to disrupt the market when we invest."
The franc, which investors buy as a haven, was trading little changed against the euro at 1.2211 at 10:12 a.m. in Zurich today. Against the dollar it rose 0.1 percent to 88.72 centimes.
Currency Reserves
At the end of the third quarter, the SNB held 48 percent of its foreign-currency reserves in euros and 27 percent in dollars. With stock markets rallying this year, the SNB has boosted the proportion of equities it holds to a record 16 percent. The remainder of the reserves is primarily invested in highly rated government bonds.
The SNB owns shares of more than 6,000 companies, Zurbruegg said, adding that the institution "fully replicates" the indexes it's investing in.
The holdings, calculated according to International Monetary Fund standards at the beginning of each month, hit an all-time high of 444 billion francs ($500 billion) in May. The central bank hasn't intervened in currency markets for more than a year, SNB policy makers have said.
"If necessary, we're going to do it again," Zurbruegg said.
The SNB last week confirmed that the franc ceiling would remain in place on the basis of new economic forecasts. Inflation is expected to rise just 0.2 percent next year, while the economy is seen expanding about 2 percent in 2014. Economists surveyed by Bloomberg News last month forecast the cap to remain in place until 2015.
Before it's here, it's on the Bloomberg Terminal.
LEARN MORE