The Weinstein Brothers Get Back Together With Miramax
by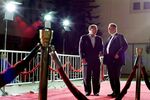 After eight years, Harvey and Bob Weinstein are back with Miramax.
Weinstein Co. announced Monday that it had struck a production and distribution deal with Miramax, the studio founded by the Weinstein brothers in 1979 and named after their parents, Miriam and Max. The Weinsteins sold Miramax to Disney in 1993 but remained on board until 2005, when they left to start their new company. There was a failed effort in 2010 to buy Miramax back.
This is clearly a happy reunion for the brothers and good news for movie fans. The deal means Weinstein Co. will be able to make TV shows and sequels based on any of Miramax's 700 titles, such as Pulp Fiction, Chicago, and The English Patient.
For three years, Miramax has been under the control of Colony Capital, a private-equity firm that has focused on making streaming partnerships with Netflix and Hulu. Once new films and shows start coming out, Miramax's profile will rise and it will probably be able to demand higher streaming fees. Weinstein Co. will also handle domestic distribution of Miramax's titles.
Details of any unfilmed projects remain to be seen, but the Los Angeles Times reported that a television version of Good Will Hunting is likely to start production right away. Sequels to Shakespeare in Love and the 1998 movie Rounders may also be in the works. As will many more. "There are hundreds of scripts to decipher and remember and find out why they were loved in the first place," Harvey Weinstein told the Los Angeles Times.
Before it's here, it's on the Bloomberg Terminal.
LEARN MORE