Secret Santa Delivers $6 Million for USC Marshall B-School Scholarships
Francesca Di Meglio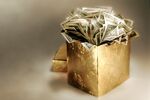 The University of Southern California Marshall School of Business will receive $6 million to support undergrad and MBA scholarships, as part of a larger $20 million anonymous gift to the university.
The business school money will go to the James G. Ellis Endowed Scholarship Fund, which was established by 2007 graduate Tyler Muse and his family and is named for the current dean. The fund provides tuition assistance to undergraduates, but Ellis expects to reserve a portion to help MBA students. At most business schools, scholarship money is more available for undergraduates than for MBA students.
The money could be doled out as a "$5,000 grant, full ride, or anything in between," says Ellis. "We'll use the money to make sure students coming through can afford to go to school."
One of the largest individual gifts for student support in the university's history, the donation is part of a multiyear effort to raise $6 billion or more in private philanthropy. The university recently announced that it is halfway toward that goal. "It's a great way to end the year," said Ellis.
Before it's here, it's on the Bloomberg Terminal.
LEARN MORE