Moncler Tops Royal Mail for Europe's Best IPO Debut of 2013
Andrew Roberts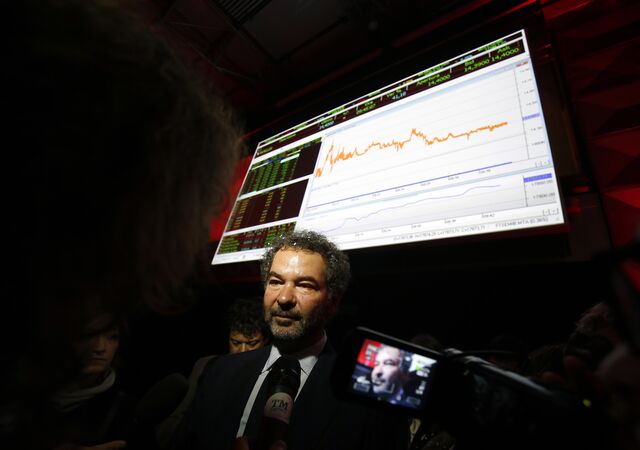 Moncler SpA advanced 47 percent in the Italian luxury skiwear maker's first day of trading, the best opening-day performance this year among European initial public offerings of more than $1 billion.
The shares closed at 14.97 euros in Milan, compared with the 10.20-euro offer price, after investors sought about 27 times the amount of stock available. The gain eclipsed October's 38 percent first-day jump of state-run U.K. postal operator Royal Mail Plc and gave the Milan-based company a market value of about 3.7 billion euros ($5.1 billion).
The maker of $1,220 quilted polyester jackets follows both Salvatore Ferragamo SpA and Brunello Cucinelli SpA in offering stock to the public as Asian demand for luxury goods fuels earnings growth and draws investors. Shares in Cucinelli, the maker of $3,195 cashmere cardigans, and Ferragamo, which sells $675 patent-leather platform heels, have more than tripled since they were listed in Milan in 2012 and 2011, respectively.
"Like we've seen in the last few IPOs in Italy in luxury, there tends to be a lot of demand for these brands because there aren't that many around," Allegra Perry, an analyst at Cantor Fitzgerald, said on Bloomberg Television's "On The Move."
Moncler is seeking to capture a larger slice of the $101 billion designer clothing market by enlarging its store network and product range, Chairman Remo Ruffini has said. Ruffini's net worth rose to $1.6 billion as a result of today's gain in the stock, according to the Bloomberg Billionaires Index.
Acquisition Plan
The skiwear maker, which has about 100 of its own outlets and distributes products in department stores as well as online, may acquire a knitwear producer to accelerate development of the category, Ruffini said in an interview on Bloomberg Television.
"We don't want to put a label on any product," said Ruffini, who isn't selling any of his 32 percent stake in the offering. "We want to make something special." Buying one of Italy's manufacturers could speed up the process, he said.
The expansion is aimed at maintaining growth that's outpacing rivals -- even Cucinelli. Sales rose 35 percent to 489 million euros in 2012, while revenue at Cucinelli increased 15 percent to 279 million euros.
"Moncler will continue to grow more than 20 percent in the next two years," said Ortelli. "In the medium term, management's challenge is to shift into other product categories" without hurting profitability.
Riskier Investment
Moncler's reliance on winter apparel, which accounts for about three-quarters of sales, makes the company a riskier investment proposition than the likes of Cucinelli, according to Rahul Sharma, managing director of Neev Capital in London.
The share offering also comes as luxury makers from Louis Vuitton to Gucci report slowing sales growth. The luxury market globally will advance at the slowest pace since 2009 this year amid slack Chinese consumption and a weaker Japanese yen, according to a Bain & Co. forecast in October.
Moncler trades on a multiple of 18.2 times enterprise value to estimated 2014 earnings before interest, taxes, depreciation and amortization, according to data compiled by Bloomberg. Ferragamo trades at a comparable ratio of 15.4 times, while Cucinelli is more expensive, trading at 25.2 times.
"With an opening of this kind, Moncler's multiple becomes truly high-end," Mario Ortelli, an analyst at Sanford C. Bernstein in London, said by phone.
Biggest IPO
Moncler's private-equity owners raised about 784 million euros after selling shares at the top of a targeted range. The institutional offer was more than 31 times oversubscribed, while retail investors sought about 14 times the amount of stock offered.
Investor appetite for European equities has helped companies raise about $35 billion in IPOs this year, more than double what they sold in 2012, according to data compiled by Bloomberg. Moncler is the biggest IPO in Italy since Enel Green Power SpA listed in November 2010.
Most of the proceeds from Moncler's IPO will go to Eurazeo SA, a French private-equity firm, and Carlyle Group. The owners exercised an over-allotment or "greenshoe" option to increase the offering size by 15 percent. About 31 percent of Moncler is publicly traded after the IPO.
Moncler aborted plans to list in 2011 in favor of a sale to Eurazeo. The private-equity firm owns a 45 percent stake and is selling 14 percent in the IPO, the terms show. Carlyle Group is divesting half of its 18 percent holding.
Bank of America Corp., Goldman Sachs Group Inc., and Mediobanca SpA are managing the sale, along with banks including UBS AG, JPMorgan Chase & Co., and Nomura Holdings Inc. Lazard Ltd. and Claudio Costamagna are advising Moncler on the IPO.
Before it's here, it's on the Bloomberg Terminal.
LEARN MORE