How Lego Became a Fast-Fashion Company
By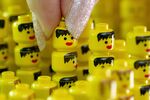 You might think of Lego as a perennial, and by several measures it clearly is. The 81-year-old Danish brickmaker is now the world's No. 2 toy company behind Mattel, and it cranks out roughly 36 billion plastic elements annually. It's iconic minifigures are expected to outnumber earthlings by the year 2019. Even so, toys remain a hit business, and in a candid interview on Friday the chief financial officer of Lego revealed that his company more and more resembles fast-fashion pioneers H&M, Zara, and Forever 21.
Holiday gift givers this December are apparently taking even longer to decide what to put under the tree (or petition from Santa), placing extra pressure on Lego to have the right kits in stock for the final days of the shopping season. "It increases the importance of getting very good data, so we can supply the retailers with the right products at the right time," Lego CFO John Goodwin told the Wall Street Journal. "More robust data tools have been employed to better assist last-minute decision-making." Interpreting the data and deciding what to restock on the fly, he allowed, has become critical for senior management.
While it's natural for a retailer to wish to be supernimble during its busiest season, Lego must exercise extraordinary discipline to keep its scramble to stock what's hot from sending it into a Darth Vader-like tailspin.

For one thing, it only takes a single missing piece in a Lego box to potentially ruin the fun. For another, many of the company's bestsellers involve licensing deals with Marvel Entertainment, Harry Potter, Star Wars, etc. Relying too heavily on the popularity of movie tie-ins was a factor in the company's near-death experience in the early aughts. In years with a new tie-in blockbuster, sales were strong; in years without one, they tanked.
As part of its turnaround, Lego got closer to its big markets, with major investments in production facilities in Mexico (to serve its largest market, the U.S.) and Hungary (to serve Germany, its second-largest market). Perhaps most crucially, then-new chief executive officer, Jørgen Vig Knudstorp, set a limit on the number of elements Lego engineers could use in their designs.
"When Lego had its brush with bankruptcy in 2003 and 2004, one of their big changes was to cut the number of shapes and colors in their inventory. They focused only on those pieces that could be used in lots of different sets," says David Robertson, author of Brick by Brick: How Lego Rewrote the Rules of Innovation and Conquered the Global Toy Industry. "Lego then decoupled parts production from set assembly, which gave them a lot more agility. If one set sells much less than expected and another sells much more, Lego can now move pieces allocated to less popular sets to the more popular sets, and only has to make a few unique pieces to fill demand. That lets them respond much faster to the fickle tastes of their core customers."
If it can work out these logistics, Lego can survive The Lone Ranger bombing at the box office. It can make up the difference with more Avengers sets or its hottest sellers so far this season: Heartlake High (part of the Lego Friends line launched in 2011 and aimed at girls) and Chima (another series supported by an animated TV series, but native to the Lego brand). If not, Lego may find itself at the mercy of its latest hot/not tie-in, just as it did when it struggled 10 years ago.