Lautenschlaeger Hailed as Possible Successor to Asmussen at ECB
Jeff Black and Rainer Buergin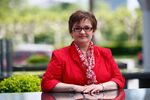 Bundesbank Vice President Sabine Lautenschlaeger was suggested by the German government as a potential candidate to fill the seat on the European Central Bank's executive board that will be vacated by Joerg Asmussen.
Lautenschlaeger, 49, is currently responsible for the German central bank's supervision of lenders so appointing her to the ECB board as it takes up financial oversight would be "a good thought," German Finance Minister Wolfgang Schaeuble said in an interview with Deutschlandfunk today. She has been an "outstanding Bundesbank vice president," he said.
Asmussen's departure for a post in Chancellor Angela Merkel's new coalition government, after only two years at the Frankfurt-based ECB, creates a void that will almost certainly be filled by another German national. Europe's largest economy has always had a representative on the board. Lautenschlaeger's regulatory experience could also make her an option for the deputy chair of the ECB's new Supervisory Board, which must be filled by an executive board member.
"Given the ECB's role, Lautenschlaeger's history of supervision expertise could add a lot of confidence," said Christian Schulz, senior European economist at Berenberg Bank in London. "Still, she doesn't have a strong track record on monetary policy and the ECB needs someone to explain that to the German public."
Government Decision
A Bundesbank spokesman declined to comment on whether Lautenschlaeger would become a candidate for the ECB post. Euro-area governments make appointments to the board under a voting system that gives bigger countries more influence. The European Parliament also questions candidates and holds a non-binding vote on their appointment.
A female candidate may have preference in taking the board position. The European Parliament attempted to block the appointment of Yves Mersch in favor of a woman before being eventually overridden by national governments in November 2012.
Elke Koenig, President of Germany's Bafin, which shares supervision duties with the Bundesbank, and Claudia Buch, a member of the Council of Economic Experts, a government advisory body, have also been named by local media as possible candidates. Bafin spokeswoman Sabine Reimer declined to comment. Claudia Buch couldn't immediately be reached.
German Debate
Asmussen, 47, will become deputy labor minister in the new German government. The Social Democrats, to which he belongs, took the ministry as junior partners in the coalition. Asmussen said in a statement yesterday that his decision was of "a purely private nature." His term had been due to run until 2019.
Asmussen was a crucial link to Germany for the ECB, criss-crossing the nation to explain what the central bank can and can't do to ease the euro area's debt crisis. Bundesbank President Jens Weidmann, the second German representative on the decision-making Governing Council, has been an outspoken critic of some policies including the bond-buying plan dubbed Outright Monetary Transactions.
In recent months, Lautenschlaeger has pushed for the ECB's upcoming stress tests on bank assets to be tough and credible, while calling for the euro region's prospective bank-resolution mechanism to have a strong legal basis. She has also warned of the risks of keeping interest rates too low for too long.
Lautenschlaeger, who trained as a lawyer, began a career in banking supervision in 1995 at the Federal Banking Supervisory Office, the predecessor to today's Bafin, and has been a member of the Basel Committee on Banking Supervision since 2008. She was appointed as vice president of the Bundesbank in 2011.
Before it's here, it's on the Bloomberg Terminal.
LEARN MORE