Economic Growth Hinges on 'Orderly' Urbanization, Say China Leaders
by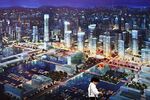 That's the message from Chinese President Xi Jinping and Premier Li Keqiang, conveyed at a two-day senior leadership confab on urbanization that closed Saturday in Beijing.
China's drive to create a more citified populace is crucial "to boost China's domestic consumption and drive industrial upgrading," the closed-door meeting concluded, according to the official statement released by the official Xinhua New Agency, reported Bloomberg News on Dec. 15.
"By the end of 2012, China has 710 million urban residents. For the first time in China's history, its urban population exceeded [its] rural population, with city-dwellers accounting for 51.27 percent of the total population," reported Xinhua on Dec. 14.
"Caught between the urban and rural residents are an army of 260 million migrant workers who live in cities but do not have access to the same public services as other urbanites who hold a city hukou, or a record in the household registration system.
That's a problem. While new urbanites typically boost consumption as they start to buy new apartments, furnish them, and generally put down roots in the city, that's not what hukou-less Chinese migrant workers do; instead, they often save most of their wages to pay for possible medical expenses, children's education costs, and in anticipation of eventually retiring in the countryside.
At the Beijing meeting, China's leaders once more affirmed that reforming the hukou policy to allow more migrants to settle long-term in cities is key to a successful urbanization. But at the same time, they made clear that at least for now, China's largest cities are off limits; migrants instead will be encouraged to settle in towns and small and midsize cities. Urban residency status will be expanded in an "orderly manner," according to the official statement.
Fears of rising crime and environmental pollution, not to mention resistance from privileged, hukou-holding urbanites, has kept policymakers from liberalizing emigration to such places as Beijing, Shanghai, and Guangzhou. "Not every city and town should grow into a giant," the statement cautioned.
A key question: Who will pay for the costs associated with rapid urbanization, including affordable housing, medical care, and schools, for new urban residents and their children?
China will allow localities more freedom to issue bonds (now largely banned). It will also allow private investment into public facilities, and fiscal transfer payments from the central government will be linked with the migration of farmers to cities. "Diverse and sustainable" funding mechanisms will be created, according to the statement.
Before it's here, it's on the Bloomberg Terminal.
LEARN MORE