Why Beyoncé Didn't Tell Anyone About Her New Album
By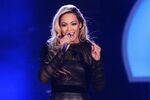 Music fans don't need to be goaded into buying a Beyoncé album. They don't need months of lyric videos, a Saturday Night Live hosting gig, or tantalizing live performances to excite them. They only need one sentence of marketing: "Guess what, Beyoncé has a new album!"
So that's just what Beyoncé did. The pop star released her self-titled fifth solo album via iTunes on Friday with no warning. Observant fans knew something was up—news about music video shoots had occasionally cropped up on celebrity gossip websites—but they didn't know what she was working on or when it would come out. And certainly no one expected 14 finished tracks and 17 music videos to go along with them.
In a statement released with the album, Beyoncé said she was "bored" with the old model of album releases and wanted to "speak directly to [her] fans." Of course, asking people to shell out $15.99 for the entire album (tracks can't be purchased individually until next week) isn't so much "speaking" to fans as compelling them to pay for her work. The album may be streamed for free on Spotify and Rdio eventually, but for the time being, if you want to hear Beyoncé's new music you have to pay. More than 80,000 people bought the album within three hours of its release, temporarily overloading iTunes, and 430,000 albums were sold the first day. That guarantees Beyoncé will hit No. 1 on the Billboard 200 next week, with sales expected to exceed 600,000.
The mechanics and philosophy behind the star's album release aren't groundbreaking. In 2007, Radiohead gave only 10 days' notice before it released In Rainbows online with a pay-what-you-want model. Pleased with the reaction, the band relied on the element of surprise again in 2011, releasing King of Limbs with five days' warning. Earlier this year, My Bloody Valentine announced its first album in 21 years at a rock concert and uploaded it online a few days later. David Bowie did the same, taking everyone by surprise when he released Where Are We Now?—his first new song in 10 years—by quietly posting it on his website.
But there's a difference between what Radiohead and David Bowie did and what happened today: Beyoncé is still considered a pop star, and pop music relies heavily on the traditional marketing machine sponsored by record labels. The stars begin with a hit single, hopefully follow it up with another hit single, release an album and perform at some heavily watched live event like the Grammys or on American Idol, launch a world tour, and then reap the profit. They leave it to the rock stars and hip-hop artists to experiment with free downloads and unofficial mixtapes.
Beyoncé is changing all that. Her new album doesn't have an obvious hit single (her last one, 4, didn't have one, either) but that seems to be by design. Beyoncé is a polished work of electronic-inspired dance pop—peppered with Jay-Z and Blue Ivy cameos—yet it's made for a listening world dominated by curated playlists rather than preprogrammed, Clear Channel-style broadcasts. This is the work of an artist who's graduated beyond the usual pop star marketing machine and started making music that's free of the three-and-a-half minute hook-heavy formula that makes a big hit. And by forcing everyone to pay $15.99 for the album now, she might be more successful because of it.
For a long time, the music industry was breaking down at the edges—an indie band's album leak here, a free hip-hop mixtape there, not to mention the small but consistent drop in sales every quarter. But when an artist as big as Beyoncé begins to go her own way, you know the tower has crumbled.