With Unrest in Seattle, Boeing Gets a Bidding War for the 777X
By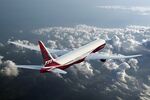 Nearly half the states in the country have bid for Boeing's newest airplane, the 777X, with their hopes raised further today after a late effort to keep the project in the Seattle area appears to have fallen short.
Leaders of the local International Association of Machinists & Aerospace Workers (IAM) union said a proposal by Boeing this week was largely unchanged from an earlier contract offer that their 30,000 local members had rejected by a wide margin in a Nov. 13 vote. "The price Boeing demanded was too high," IAM District 751 President Tom Wroblewski said in a statement Thursday night.
Leaders of the union's national offices said, however, that IAM 751 members would get an opportunity to review the proposal and make their wishes known. They might even vote on the latest Boeing offer, Rich Michalski, who represented the union's national leadership in the Boeing talks, told the Seattle Times. "Our members are very sophisticated and smart on this matter," he said. "Once we get the information on the offer to them, they will let us know. We really need to hear from our members."
The union's vote last month provoked a bidding war for the 777X project, a wholesale refresh of Boeing's 777 jumbo jet, as states such as Alabama, Missouri, and Utah rushed to compile economic enticement packages to lure the project. Last month, days before the union vote, Washington State legislators quickly cobbled together $8.7 billion in tax breaks and other incentives to secure the new airplane work.
Boeing says it's reviewing 54 sites in 22 states that have submitted bids for the work, with some states proposing multiple venues. The company has said it will announce where it plans to build the 777X—and a site for the plane's new carbon fiber wing—early next year. Production is set to begin in 2017, with the first delivery three years later. The project is likely to provide manufacturing jobs for 30 years or more, one reason so many states are seeking to land it, even with steep financial concessions to the Chicago-based company.
In a Dec. 12 statement, Boeing said its "best and final counterproposal" would have paid an extra $5,000 bonus atop the previous $10,000 signing bonus, provided extra dental benefits, and retained the current rate to achieve the top pay scale, six years instead of the earlier proposal's 16 years. The sticking point, however, appears to be Boeing's demand that workers migrate from a traditional pension to a defined contribution, 401(k)-style plan in late 2016.
The 777X will be a more efficient version pdf) of the current model, with a new, expanded wing and new engine technology. The 777X has quickly become a top seller in Boeing's commercial airplane portfolio, drawing 259 firm orders, including 150 from Emirates.
Before it's here, it's on the Bloomberg Terminal.
LEARN MORE