Unpacking the Proposed Student Loan Borrower Bill of Rights
By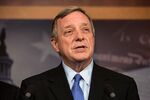 With student debt topping $1.2 trillion, there's increasing focus on what happens to people after they take on loans, particularly borrowers who are struggling to make their payments. The Consumer Financial Protection Bureau is about to begin overseeing the seven largest student loan servicers. Now four Senate Democrats—Illinois's Dick Durbin, Massachusetts's Elizabeth Warren, California's Barbara Boxer, and Rhode Island's Jack Reed—have introduced legislation proposing a bill of rights for borrowers.
The press release focuses on the "rights" the legislation will give borrowers, but the full bill, which Durbin's office provided because it isn't on the government's website yet, shows there's more tucked into the 46-page document (PDF). Here's how it breaks down:
The first nine pages aren't actually the "Bill of Rights" at all. Instead, they're a set of new proposed regulations for servicing private student loans, which make up about 14 percent of outstanding debts (and an even smaller share of new loans). Much of the section is devoted to spelling out requirements for how servicers must advise struggling borrowers about long-term options such as consolidating loans into lower rates and different repayment plans. (If a borrower indicates that her problem is short-term, the servicers can suggest forbearance or deferment options.) Interestingly, it directs the CFPB to create a model disclosure form that servicers must then use to present repayment options.
Then comes the 13-page "Bill of Rights" for borrowers with private student loans. It also codifies disclosures, including that servicers must tell borrowers when they transfer the loan to another servicer and what information servicers must give borrowers about the history of their loans. More directly, it specifies the order that the servicer must apply payments to a borrower's different loans. The CFPB has highlighted this as an problematic area, saying servicers don't always credit accounts in the way that minimizes a borrower's costs. The bill says that after applying a payment to the interest and fees due that month, the servicer must apply any extra money to paying down the loan's principal with the highest interest rate. The idea is to let borrowers pay down their most expensive loans first. The bill has other measures, such as invalidating contracts that require consumers to raise complaints in arbitration rather than court. Lest servicers take these rules lightly, the proposal says a servicer will have civil liability if it violates the bill of rights.
Finally, there's a similar (though not identical) set of "rights" for servicing federal student loans, which make up the vast majority of debts. The disclosure requirements are similar to those for private students loans, but rather than mandating a specific order for applying payments, it directs the CFPB to draft new rules on the topic with the goal of minimizing the cost to borrowers. It also says the Department of Education must require servicers to send letters to borrowers about their repayment options, which echoes what the department is already doing.
There are a few other parts, including making sure borrowers know about protections for members of the military and requiring lenders to ensure that a borrower is actually enrolled in school before providing a loan. But at its core, the prosposed law focuses on more disclosure, more emphasis on repayment plans, and more direct control over how servicers must apply payments to minimize what a borrower owes.
Before it's here, it's on the Bloomberg Terminal.
LEARN MORE