Tech Billionaires Spend Millions on 'Science Oscars'
Four of tech's richest men roll out the red carpet for researchers—and celebrities
By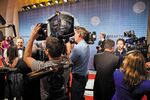 Thomas Edison became a true household name in 1877 with the invention of the phonograph. Maybe there was more room to do great things back then, or maybe there was just less to fawn over. Whatever the case, no present-day scientist has reached that level of fame. "If you ask a person on the street if they know any living scientist, they will not be able to come up with a name," says Yuri Milner, the Russian investor who has made a fortune betting on companies such as Facebook and Twitter.
Milner, along with Facebook co-founder Mark Zuckerberg, Google co-founder Sergey Brin, and Alibaba Group founder Jack Ma—combined net worth: about $52 billion—have for the past year tried to turn scientists into celebrities. At the end of 2012, they began handing out Breakthrough Prizes, awards of $3 million given to people working out some of the toughest questions in physics and the life sciences. On Dec. 12 the group announced a second group of winners, and the addition in 2014 of a math prize, at a ceremony held at NASA's Ames Research Center in Mountain View, Calif. The usual technology moguls showed up, and so did Hollywood celebrities including Glenn Close, Anna Kendrick, Rob Lowe, and Kevin Spacey. It was an unlikely group assembled to fete some of the leading experts in intracellular protein degradation and deep brain stimulation.
The event was put together by Don Mischer, who also produces the Academy Awards. He took over a stripped-down former dirigible hangar on the NASA campus and built a temporary banquet hall. Lights from the landing strip behind the hangar guided attendees from the valet parking. The only way to get inside was to stroll a red carpet as photographers shot business titans, actors, and scientists in tuxedos and elegant dresses. (One exception: Brin turned up in a ratty sweater, toting a Rubik's Cube-patterned backpack.) Conan O'Brien did a 10-minute monologue, which included a couple of jokes about spending the evening in what looked like a home for blimps. Mischer sequestered reporters in a makeshift tent next to the main event and allowed them to watch on two small TVs as attendees ate dinners catered by the French Laundry, called "the best restaurant in the world" by chef Anthony Bourdain.
While the organizers were hoping for Oscar-worthy buzz, they didn't quite get there. The challenge is turning scientists into icons. Milner and his cohorts are trying to bridge a disconnect between the Silicon Valley of today, where stars hawk apps designed to facilitate casual hookups, and the lab coat-clad scientists of yesteryear. Decades ago the area's most famous residents, such as Intel co-founders Robert Noyce and Gordon Moore, had advanced degrees and often pushed the limits of science. "Back then, you had people who were physicists, chemists, and chemical engineers who were building the backbones of the major products and companies," says Leslie Berlin, the project historian for the Silicon Valley Archives at Stanford University. "A very high percentage of the founders of companies had Ph.Ds."
These days a different breed of entrepreneur is celebrated: folks such as Kevin Systrom, who co-founded photo-sharing app Instagram and sold it to Facebook for $1 billion; and Evan Spiegel and Robert Murphy, who started another photo-sharing app, Snapchat. Their breakthroughs—colored filters and disappearing files—don't expand scientific inquiry but have brought vast, quick riches to the founders. Such success fuels more bright young minds pursuing similar goals that don't add much to the understanding of the physical world.
Milner, who's grown rich off the new brand of Valley engineering, says the Breakthrough Prizes are an effort to swing the pendulum back toward the older model. "I think it's time to emphasize some other priorities," he says. "We're going to fund this for a long time, and the idea is to have a lot of impact and hopefully create something of a social movement toward science."
Plenty of scientific awards already exist, starting with the Nobels, although winners of the Peace Prize tend to have much higher profiles than winners for physics. Also, it should be noted, Nobelists get only about $1.2 million. Milner argues that more valuable awards will help return public focus to scientists.
And now—drumroll—the wait is over. The winners of the 2013 Breakthrough Prizes include James Allison, who is developing cancer therapies; Richard Lifton, for discovering the genes behind hypertension; Michael Hall, who discovered an ingredient in cell growth; Robert Langer, for work leading to new biomaterials; Mahlon DeLong, for the deep brain stimulation that may help solve Parkinson's; Alexander Varshavsky, for protein degradation; and Michael Green and John Schwarz for fundamental physics. The recipients of the $3 million prizes will help select next year's winners. All white men, mostly gray-haired, they had a tough time standing out on the red carpet.
The event at NASA Ames will appear on the Science Channel on Jan. 27. Can you really turn scientists into idols by spending lots of money on prizes and peddling an awards banquet on TV? "The near-unanimous opinion I hear from colleagues is that the money could be much better and more wisely spent," says Frank Wilczek, a Nobel laureate and physics professor at Massachusetts Institute of Technology. He would prefer to see the money go directly to fund searches for dark matter or space-based gravity waves. "But I don't want to be a killjoy, and I wish them well," he says.
The biggest challenge for the Breakthrough Prizes may be finding real breakthroughs. Jonathan Huebner, a physicist who works at the Naval Air Warfare Center in China Lake, Calif., as a weapons designer, has been a longtime proponent of the idea that humans are running out of world-changing inventions. "I think the major branches of discovery are behind us," he says. To be fair, Green and Schwarz came up with a new theory of quantum gravity. But it's no Snapchat.
Before it's here, it's on the Bloomberg Terminal.
LEARN MORE