Even the World's Biggest Sports Agency Can't Keep Roger Federer
by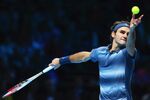 One of the biggest names in global sports is starting a small business in Cleveland. Roger Federer and his agent, Tony Godsick, the New York Times reports, are partnered with a pair of wealthy investors to form a boutique sports agency, Team8.
Along with Federer, the shop will represent tennis pros Juan Martin del Potro and Grigor Dimitrov, a 22-year-old from Bulgaria nicknamed "Baby Fed." Godsick and Federer both left IMG Worldwide, one of the world's biggest agencies, in July 2012 after their contracts expired.
Sports agents breaking away from their employers and taking big-name clients with them is an old routine we've seen more of in recent years. In 2011, Tiger Woods followed his agent Mark Steinberg out the door at IMG. And last year, LeBron James and his agent, Rich Paul, left CAA Sports to form a new agency.
"This is not the first time," says David Falk of Federer's move. He should know. In 1992, he and Michael Jordan jumped from ProServ to launch Falk's new shop, FAME.
Splits like this happen often, typically once athletes become global celebrities and no longer need the machinery of a large firm. Their own star power creates lucrative connections. (Witness LeBron James hanging out with the world's richest man, Carlos Slim, last month.) What they do need is a trusted confidante to help sort through offers. "Michael enabled me to call basically anyone in the world," says Falk, "I had to have a certain level of skill to decide what deals fit."
For big houses such as IMG, the departures are a nuisance. A sports agency works like a record label: Sign lots of potential talent, and make money from a few top earners. It works well as long as the rainmakers don't leave. Companies use noncompete clauses in their employee contracts to try to stem departures. And lawsuits over the poaching have become commonplace. But if a star player wants out, there's little an agency can do.
Try telling Tiger Woods he can't work with Mark Steinberg because of a noncompete. As Falk points out, there's a strong chance an athlete would drop the agency for that. "In theory, you could enforce it, but what are you gaining?" says Falk. "You might as well be friendly, let him go on his own, and try some kind of settlement agreement."
Eventually, the new boutique attracts more agents and clients, grows into a mega-agency, and spawns more breakaways, completing the circle of agent life.
Before it's here, it's on the Bloomberg Terminal.
LEARN MORE