pursuits
McDonald's New App Is a Glorified Coupon
By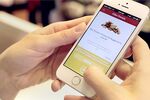 McDonald's has decided that the most important tool for getting young adults through its doors—aside from its menu—will be smartphones. That's why it's testing a new app called "McD" that serves up mobile-only offers such as buy-one-get-one breakfast sandwiches or $1 McChicken sandwiches. It's like the digital version of fliers in the mail or supermarket circulars.

"There are a number of customers out there within the millennial age range that we talk about often who need to be better engaged with our products," said Kevin Newell, chief brand and strategy officer for McDonald's U.S., at a November investor meeting. But the McD app doesn't follow directly in the footsteps on some restaurant rivals, which have already introduced apps allowing customers to pay (like Starbucks) and order (like Domino's). McD is essentially a coupon for deals consumers can redeem at participating stores. The real benefits to McDonald's are keeping customers loyal and, ideally, enticing customers who get a free burger to order additional items that they'll pay for. Currently, the app has offers for 1,000 restaurants only in the Greater San Francisco Bay Area, the St. Louis Metro Area, New England, and Albany, N.Y.
The chain announced in September that some restaurants in Salt Lake City and Austin were experimenting with a mobile-payment app. But this is a more difficult transition than persuading younger customers to accept digital coupons. "Everyone across industries is trying to figure out what the mobile thing is and how we're going to approach it," says but Marcos Sanchez, a spokesman for app-tracking firm App Annie. "Figuring out mobile payment is not easy. You need to integrate it into your point-of-sale system." If the app also allows customers to order for pickup, that's another change in restaurant operations for businesses designed to deal with walk-in or drive-thru customers.
Perhaps that's why the McD coupon app has so far been rolled out more broadly than the chain's mobile-payment app. Steve Easterbrook, McDonald's executive vice president and global chief brand officer, described a vision for McDonald's digital future during the investor meeting:
"Imagine a customer walks [into] their local McDonald's and receives a message on their smartphone that welcomes them back to the restaurant by name and a message that offers them the ability to place their favorite order, perhaps a Big Mac Extra Value Meal from their phone. Maybe then support it with a personalized offer to being a loyal customer or perhaps a customer-relation management program that gives loyal customers access to fun and exciting rewards that only McDonald's can deliver."
Reviewers on Google Play gave the McD app 4 of 5 stars and iTunes 3 of 5 stars. Common criticisms include not having any deals in the area and battery drain.
Before it's here, it's on the Bloomberg Terminal.
LEARN MORE