Kimchi Price Plunge Adding to Record Linker Loss: Korea Markets
Yewon Kang and Eunkyung Seo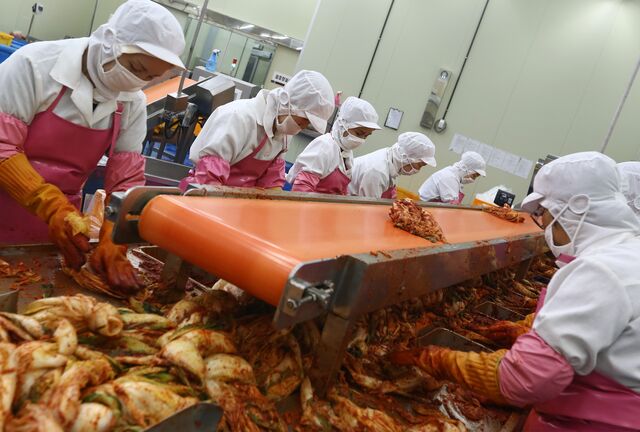 Plunging costs for staples from kimchi to gasoline in South Korea are adding to record losses on inflation-protected notes and the country's biggest bond fund manager is still cautious.
So-called linkers have lost 5.3 percent in the nation this year, the worst annual performance in Bank of America Merrill Lynch indexes going back to 2011. That exceeds the 4.5 percent loss on similar debt globally. Expectations for inflation to remain near a 14-year low will continue threatening returns, according to Samsung Asset Management Co., which oversees 89 trillion won ($84.7 billion).
"There's not enough interest in inflation-linked bonds," said Lee Do Yoon, Seoul-based head of the fixed-income division at Samsung Asset. "There's low liquidity, they're poorly valued and they offer low returns. Plus investors expect inflation to remain subdued for some time."
While the won's 8 percent gain against the dollar since June 30 has cut import costs, it has also lowered the competitiveness of exports and threatens to drag on economic growth. The breakeven rate, which measures the price increases traders expect over the life of linkers, dropped 46 basis points this half to 1.76 percent, near a four-year low, according to data compiled by Bloomberg. That's less than the central bank's targeted inflation range of 2.5 percent to 3.5 percent through 2015.
BOK Decision
The Bank of Korea kept its benchmark interest rate unchanged at a policy meeting yesterday, with low inflation giving it room to support a rebound in Asia's fourth-biggest economy.
Consumer prices climbed 0.9 percent in November from a year earlier after a 0.7 percent increase in October that was the smallest gain since July 1999. Inflation has stayed below the central bank's target range since May 2012.
The cost of kimchi, a pungent cabbage dish served with many meals in Korea, has dropped to the lowest since 2009, according to an index tracking the prices of its ingredients from the Ministry of Agriculture, Food and Rural Affairs.
"Due largely to the stability of international agricultural prices, inflation will remain low for the time being," the Bank of Korea said in a statement yesterday after keeping the seven-day repurchase rate at 2.5 percent, where it has been held since a cut in May.
Big Risk
The yield on South Korea's 3 percent sovereign bonds due December 2016 climbed one basis point yesterday to 3.01 percent, Korea Exchange Inc. prices show.
The won, which was at about 1,053 per dollar as of 9:24 a.m. in Seoul, is the best-performing Asian currency this half. It will likely end 2014 near that level at 1,055 and strengthen to 1,025 the following year, according to the median estimate in a survey by Bloomberg.
"We don't recommend buying linkers as investors are wary of the Bank of Korea's inflation forecast," said Lhee Jung Bum, a Seoul-based fixed-income strategist at Korea Investment & Securities Co., the country's third-biggest brokerage. "The risk from buying the inflation-tied bonds is big amid expectations for the won to strengthen."
South Korea first introduced inflation-linked bonds in March 2007, with securities that pay interest twice yearly and link the coupon and final principal redemption to the headline inflation rate.
Fed Factor
In an effort to revive the market, the government plans to propose incentives for inflation bonds in its sovereign note issuance plan for 2014 to be released in January, Kim Jin Myung, director of the Finance Ministry's treasury bureau, said in a phone interview on Nov. 27.
The linkers may get some help from the Federal Reserve, according to Heo Eun Han, a fixed-income strategist at Woori Investment & Securities Co. in Seoul. The U.S. central bank will likely start paring stimulus in the first quarter next year, according to the majority of economists surveyed by Bloomberg on Dec. 6. Woori Investment recommends buying the inflation-linked bonds following any Fed tapering, Heo said.
While any pick-up in inflation along with economic growth next year could leave linkers looking attractively priced, they aren't at that point yet, Rohit Arora, Singapore-based emerging-market rates strategist at Barclays Plc, wrote in e-mailed responses to questions.
"We do not expect an imminent pick up in demand for the Korean inflation-linked bonds," Arora said.
Before it's here, it's on the Bloomberg Terminal.
LEARN MORE