Intel to Spend Millions on the Bare-Chested Celebrations of FC Barcelona
by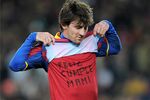 Next time you start to feel like everything that can be sold will be sold, just remember that most soccer clubs in the world do not sell the underside of their jerseys to advertisers. Most of the time, when a player lifts up his shirt to celebrate a goal, it is an act of joy that brings profit to no one. Do not fret over news that Futbol Club Barcelona, the second-richest soccer team in the world, has sold the inside of its shirts to silicon chip maker Intel for a reported $25 million over five years.
Do not consider that the space that striker Lionel Messi once used to wish his mother a happy birthday (earning a fine of about €2,000, or $2,740) now belongs to a corporation with a market value of about $120 billion. Do not wonder if Barcelona players are raising their shirts because they want to or because they have to. Definitely do not think of Barcelona goal celebrations as a return on investment. But if you must know, they are worth $8,858,678 annually, according to Eric Smallwood, an analyst who tracks these things for Front Row Marketing Services—$6,013,000 from TV exposure, $469,680 from in-stadium exposure, and $2,375,000 from surrounding promotions and publicity such as this story.
Try not to consider the cleverness of a company that makes internal parts for computers buying the inside of a shirt. Don't think of the slogan Intel Inside. And whatever else you do, try not to remember the time Danish striker Nicklas Bendtner was fined £80,000 ($130,400) for exposing the logo of an Irish bookmaker on his underwear.
Before it's here, it's on the Bloomberg Terminal.
LEARN MORE