China's Extreme Smog Forces Pilots to Train for Blind Landings
By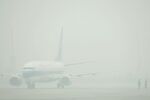 Take a flight in China, and there's a decent chance your flight will be delayed. The nation's notoriously congested airports are dealing this month with the onset of a particularly extreme bout of lung-choking pollution, which lowers visibility and contributes to airline troubles.
In response, Chinese authorities have mandated that pilots at domestic airlines who fly into the 10 most congested airports be qualified to land when visibility falls below 400 meters (1,300 feet), Bloomberg News reported today, citing the Civil Aviation Administration of China. Currently, domestic flights are diverted when visibility falls below 400 meters. Under the new rule, pilots will need to be rated to land airplanes using the precision auto-landing instruments on most Airbus and Boeing models. Those trickier airport approaches, using radio waves, are the same type that were discussed for bad weather when U.S. regulators decided recently to allow wireless devices in flight. Passengers must still power down their gadgets when the pilot says so.
Chinese officials are aiming to curb flight delays at Beijing Capital and Shanghai Pudong airports, which are marred by two of the world's worst records for on-time flights. Bloomberg reported that in October, Beijing and Shanghai had on-time departure rates of 38 percent and 39 percent, respectively, the worst among 35 major international airports, according to FlightStats.
The rules apply only to China's domestic pilots and won't affect training for U.S. aviators. A spokeswoman for United, the U.S. airline with the most service to China, says its operations have not been affected by pollution. A FedEx spokesman said Friday it has been "business as usual" for its China flights. American and Delta had no immediate comment.
The kind of low-visibility approach mandated in China has become common for many U.S. carriers, particularly Alaska Airlines, which has pioneered such landings in Alaska, where fog and rain are frequent. The company says such equipment and pilot training save it about $15 million annually, because cancellations and diversions on flights to Alaskan airports have been reduced. (Here's an FAA video of the precision approach into Juneau, which, to be clear, is a more sophisticated variety than the instrument approaches required in China starting Jan. 1.)
The technology allows airplanes to follow a precise path even when pilots can't see much, says Sean Cassidy, an Alaska Airlines captain and national safety coordinator for the Air Line Pilots Association, the largest U.S. pilot union. "Basically you're monitoring the airplane all the way to when it touches down, and you take over when the airplane starts to slow down on the runway," he says.
China is plagued with severe pollution made worse in winter due to a heavy reliance on coal-fired power plants to heat homes. The nation also has massive industrial factories that contribute smog to the atmosphere and tens of millions of drivers, leading to frequent congestion on freeways.
Cassidy, a former military pilot who flew in China, says the worst travel-related impact of the country's air pollution isn't on U.S. airline operations but on their crews who fly there. "Just because of the air quality, walking, breathing, and trying to exercise—all the things you do on a normal layover—that's when it becomes hard," he says.