As Frozen Leads the Box Office, Turmoil in Animation Land
By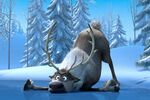 A week after coming in second to The Hunger Games: Catching Fire over the five-day Thanksgiving holiday, Walt Disney Animation Studios' hit Frozen managed to wrest last weekend's box office crown with an impressive $31 million (to Catching Fire's $27 million). Going into this weekend it's banked about $140 million domestically. With solid legs, an A+ CinemaScore grade, a Golden Globe nomination for Best Animated Feature Film, and Christmas right around the corner, Frozen is projected to make about $250 million.
Along with the $367 million earned by Universal and Illumination Entertainment's Despicable Me 2, the $268 million brought in by Pixar Animation Studios' (DIS) Monsters University, and the $187 million earned by Fox and DreamWorks Animation's (DWA) The Croods, that caps off a pretty solid year for animation at the domestic box office.
But all may not be as rosy in toonland. Next year, for the first time in almost a decade, there will be no new Pixar film: The company announced it's pushing The Good Dinosaur, originally slated for May 2014, all the way back to November 2015. (This came on the heels of the news that the film's director, Bob Peterson, had been removed.) As a result of the delay, Pixar announced a small round of layoffs.
That's nothing compared with the bloodletting earlier this year at DreamWorks Animation, Pixar's chief rival. In February the company, home of the megahit Shrek series, announced it was laying off about 350 employees from its staff of 2,200. The goat this time was the (rare) failure of the expensive Rise of the Guardians, which the company had hoped would kick off a whole new franchise. The company also put another film, Me and My Shadow, back into development.
Animation giants are feeling the heat of a more competitive marketplace. "While Pixar's been recycling Monsters, Inc. and Cars and Finding Nemo, studios like Blue Sky and Illumination have been coming up with original properties," says animation historian Jerry Beck. Even Pixar's once-seemingly ironclad monopoly on awards season took a hit this week, when Monsters University failed to receive a Golden Globe nomination.
Younger companies are better at saving money, too: Despicable 2 made $100 million more than Monsters University, but it carries a fairly limber $76 million price tag; the Pixar film, not unlike the studio's other sequels Cars 2 and Toy Story 3, may have cost more than $200 million to produce. One explanation is Pixar's creative and technological perfectionism. Monsters University took four years to make. (By comparison, four years ago the first Despicable Me hadn't even come out.)
Of course, animated films are not new stoves: Customers can enjoy more than one without too much investment. "Pixar is still the biggest player in the field right now," says Amid Amidi, editor-in-chief of cartoonbrew.com. "Frozen or Despicable Me 2's success doesn't really affect Pixar one way or the other. The market's more than big enough."
Still, Pixar may be feeling pressure of a different kind. "They want to protect the brand," says Beck. "They have a standard there. Animators go in and pitch things, and John Lasseter [chief creative officer for Pixar and Walt Disney Animation Studios, which are both owned by Disney] asks, 'How is this any better than a DreamWorks film? How is this something we've never seen before?'" Pixar's desires to distinguish itself may be even greater now that Walt Disney Animation is thriving under the same corporate roof. To be fair, that studio's films tend to be more traditional: 2010's Tangled is a retelling of the Brothers Grimm's Rapunzel, and Frozen is a loose adaptation of Hans Christian Andersen's The Snow Queen.
DreamWorks Animation has also been seeking to diversify its offerings beyond go-big-or-go-home feature films. It recently spent $158 million acquiring Classic Media, which owns the rights to such characters as Casper the Friendly Ghost and He-Man, and is planning to open theme parks in New Jersey in 2014 and Shanghai in 2016. But part of that plan rests on serializing Turbo—a disappointing summer release, banking only $83 million off a $135 million budget. When you put so many of your resources toward a small number of films, and when so many merchandising and spinoff contracts are relying on riding your coattails, one flop becomes a huge deal. The Turbo series is still a go, so this franchise may yet turn out to have more life in it.
Pixar, meanwhile, doesn't like to gamble on quality. While the delay of The Good Dinosaur was more public than they'd like, the company is known for rewriting and revising its films until everything is right. Replacing directors in that process is nothing new for the studio. (The 2012 hit Brave changed directors midstream, too; both of them were onstage during Oscar night.)
"If Pixar rushes The Good Dinosaur out, they might not only lose money, but they would tarnish the reputation they already have," says Beck. "They can afford to delay it." 2014 might be a rough year for Pixar, but it may find some solace in the example of the very film that was sitting comfortably atop the box office last weekend: As recently reported by Studio System News, Frozen's journey to the screen has taken some seven decades; it began as a project dreamed up by Walt Disney himself. Perhaps good things come to animation studios that wait.
Before it's here, it's on the Bloomberg Terminal.
LEARN MORE