Why Antibiotic Makers Aren't Worried About FDA's Livestock Rules
By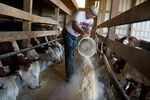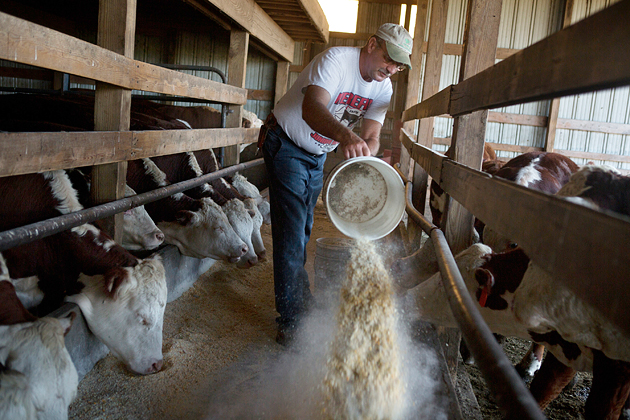 In a move to alleviate concerns about overuse of antibiotics on farms, the U.S. Food and Drug Administration issued new guidance directing at animal pharmaceutical companies to phase out the use of certain drugs to promote weight gain in animals. But this won't mean drug-free livestock: The three-year initiative is voluntary—drug companies don't have to participate—and it only affects antibiotics that are also used to treat humans, not animal-only antibiotics or growth promoters that are not antibiotics.
The plan asks drug makers to revise labels to remove usage of the products for growth enhancement, and "by law, drugs administered through feed must be used according to the approved labeling," according to the FDA. Farmers can still use them to treat or prevent specific animal diseases, but the plan also asks companies to change the drugs' over-the-counter status so that farmers will require a prescription or order from a licensed veterinarian.
Zoetis and Eli Lilly's Elanco, which sell a large share of the drugs, both plan to adopt the voluntary guidelines (Elanco will implement a similar policy worldwide). But neither expects a significant impact on overall sales. The FDA said 25 to 27 companies will be affected by the plan, and the drugs that will be the most affected are tetracyclines, penicillins and macrolides, as Reuters reported.
Rob Aukerman, president of the U.S. and Canada operations at Elanco Animal Health, says farms will still use the drugs to treat disease, which will help sustain sales. As the plan limits antibiotic use, the company is also exploring other treatments for animals such as enzymes and vaccines, some of which are set be be launched next year.
As for ranchers, Chase Adams, a spokesman for the National Cattlemen's Beef Association, said in an e-mail: "We have been talking to the FDA for about two years on this move, so it isn't a surprise and we're not anticipating any major issues."
The FDA plan comes as health officials and consumers worry that the overuse of antimicrobials is causing bacteria to become drug resistant. As some of these drugs are also used to treat humans, this increases the risk of infection in people, the FDA claims. The use of antibiotics in feed and drinking water to promote weight gain in cattle, hogs, poultry, and other animals is common, although the FDA says it's still not entirely understood why the drugs have this effect.
The agency has been working with groups representing drug companies, the feed industry, producers of beef, pork and turkey, as well as veterinarians and consumer groups, and made the initiative voluntary "because it is the fastest, most efficient way to make these changes," according to the FDA website.
Still, some argue worries about drug resistance are misguided. The American Veterinary Medical Association disputes claims that the use of antibiotics in animals harms human health, saying, "it doesn't account for the benefits of preventing disease … While outbreaks of resistant foodborne pathogens have been reported, very few have been epidemiologically traced back to the farm."
Before it's here, it's on the Bloomberg Terminal.
LEARN MORE