pursuits
Hello Kitty Embraced by Western Pop Stars Seeking Japan Sales
Music artists court Hello Kitty to enhance their visibility in Japan
By and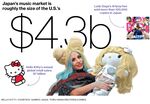 In late November, Lady Gaga showed up at the Tokyo TV studio of the Music Station program in a tricked out, cutie-pie outfit featuring a big cartoonish wig, pink bow, and anime-inspired eyes painted on her eyelids. As part of a marketing blitz for her new album Artpop, the star also did a photo shoot to promote a Lady Gaga-inspired Hello Kitty doll with long blond hair and a seashell bra.
Mother Monster meets Hello Kitty? In Japan, cuteness (kawaii) sells. Recording acts as diverse as Lady Gaga, Avril Lavigne, Katy Perry, Nicki Minaj, Mariah Carey, and Lisa Loeb are unified in their belief that a little kitty glitter can go a long way in Japan's $4.3 billion music market. Over the years, they've all professed their love for the moon-faced feline character in interviews, photo events, and, in Lavigne's case, lyrics. The Canadian singer-songwriter's self-titled CD released in early November has a techno pop track titled Hello Kitty.
For Kitty-chan's corporate parent Sanrio, a character goods and licensing company, having global celebrities—none of whom are paid endorsers—bow before your core franchise is a godsend. Robust Hello Kitty sales and double-digit operating profit growth have helped Sanrio's stock advance 70 percent this year and have made founder Shintaro Tsuji one of Japan's richest executives, with a personal fortune of about $1 billion, according to wealth data compiled by Bloomberg. "It's been very organic," says Janet Hsu, president and chief operating officer of the company's North American operations. The pop music world's adoration "drives the relevancy value of Hello Kitty; she's always in the moment." A Sanrio character called DJ Hello Kitty—a performer wearing a black costume with sequins—does promotions at night clubs around the world and recently co-starred in a music video with Japanese singer Ayumi Hamasaki.
For foreign female recording artists, showing reverence toward the red-bow-tied feline is a shrewd business move. Although Japan has a population equal to only 40 percent of the U.S.'s, it's the world's No. 2 music market behind the States. Music lovers in Japan typically pay $30 for a newly released CD, compared with about $18 in the U.S., and illegal download sites such as Napster and Bit Torrent never gained traction in Japan because of its stringent antipiracy laws.
In Japan, where cartoon characters pitch all manner of products and services, from air flights to medical equipment, there's nothing strange about Kitty tie-ups with musical talent. Created in 1974, the mouthless one is an enduring pop character that appeals to multiple generations. "In this age of social media, what Hello Kitty promotes is a recommendation from a longtime friend, which is a very powerful sell," says Alan Swarts, co-founder and chief executive officer of Breaker, a mobile entertainment company, and a former VJ and 17-year veteran of MTV Networks.
In a turn from how they felt as recently as the early 1990s, Western singer-songwriters have grown comfortable commingling their artistic identities with commercial brands, says Loeb, whose 2002 album Hello Lisa featured the Sanrio character on the cover. "Being an artist today, whether you are a commercial artist or indie artist, there is less fear and taboo with associating with brands that you like," she says. "Nowadays, it shows that you are an entrepreneur with likes and dislikes."
It's hard to quantify how much of an audience enhancer Hello Kitty has been for foreign talent. Loeb, who has done promotional events with Sanrio and once attended the MTV Japan music awards with Hello Kitty, believes the character "reinforced a lot of the audience I already had." Perry, Lady Gaga, and Lavigne have gained popularity in Japan and done well on the charts this year, says Billboard Japan spokesman Hiroshi Yamaguchi, in part by channeling kawaii fashion when they visit. "Being pro-Japanese culture also helps," he says.
Aside from the money to be made, the quirkiness of Japanese pop culture is a pull with Western singers, says Yusuke Nakagawa, president of Asobisystem, a Tokyo talent agency. His agency represents the recording artist, model, and reigning Japanese princess of all things precious, Kyary Pamyu Pamyu. She favors a look best described as a mix of gothic and fairy tale, ultra-innocent and Lolita fetching. "Kyary isn't produced by any famous U.S. music studio," says Nakagawa. The kawaii look "is getting more attention because it's purely made in Japan."
Before it's here, it's on the Bloomberg Terminal.
LEARN MORE