Wealthy Jet Owners Spend Big to Reduce Noise Levels
Billionaire owners spare no expense in reducing noise levels
by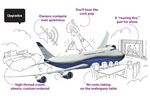 On the world's biggest private jets, luxury is quietly reaching new lows. Engineers customizing planes for wealthy clients are dramatically reducing noise levels in cabins. Airliner-size planes from Boeing and Airbus have long been fitted with luxury features, from faux fireplaces to gold-plated bathroom fixtures. Now, billionaire owners are demanding serenity in flight.
With extra insulation and redesigned climate control systems, engineers can bring the decibel level down below 50, enabling normal conversation at more than 6 feet away. That's about half as loud as the levels in the least noisy seat on the Boeing 787 Dreamliner, the quietest plane on the market today.
"This is an area that has improved drastically," says Mohammed Alzeer, general partner of San Antonio-based Gore Design Completions, which is redoing the interiors of two 787s for wealthy clients. "The lowest I have been able to work on was 46 decibels. You could hear a whisper, literally," he says.
Soundproofing is the latest add-on for a select club of private owners that includes Saudi Prince Al-Waleed Bin Talal, who owns a Boeing 747 jumbo jet, and Russian steel magnate Roman Abramovich, who has a Boeing 767.
"You had a lot of these owners who were on the West Coast … and they all knew each other," says David Edinger, president of Comlux Aviation Service. " 'How much did your airplane weigh, and what was your sound rating?' It became a bit of a competition."
After Donald Trump bought the Boeing 757 owned by Microsoft co-founder Paul Allen in 2011, he gutted and refurbished the interior. Soundproofing was a priority, says John Dunkin, Trump's chief pilot. Added glass on the windows, extra insulation, and sound-absorbent suede leather ceiling panels were used. "Passengers frequently comment about how quiet the plane is," Dunkin says.
Custom interior work including soundproofing can cost about $35 million for a single-aisle plane such as a Boeing 737 and many times that for a widebody, says Severine Cosma, Comlux's vice president for marketing. That's on top of the price of the jet. A 737-900ER lists for $96.1 million.
The task of muting engine and other mechanical sounds presents challenges. Technicians strip planes down to strategically install lightweight insulation in multiple layers. To lessen one of the main sources of cabin noise, the air-conditioning system, customizers tear out commercial air ducts and other equipment and replace them with quieter units, redesigning the ducts to minimize airflow restrictions.
The quiet has its trade-offs. So much noise can be muffled that previously undetectable sounds—such as flight control motors—are suddenly apparent. "As you bring the overall noise level down, you begin to hear these more annoying tones," says Brian Joyal, business development manager at 3M Aerospace. "It can actually make a long flight more uncomfortable."
Engineering to silence a jet's mechanical systems raises the bar for Federal Aviation Administration certification, Joyal says. The agency has to approve all custom design work. Muffling a plane's mechanical parts requires engineers to tinker with systems directly related to safety.
Plastic composite parts on interior sidewalls, galleys, and other areas of newer models such as the 787 Dreamliner also make it harder to lessen cabin noise. While engines on the 787 are quieter than its predecessors, the lightweight parts designed to increase fuel efficiency transmit more noise, Joyal says, and sound almost like a snare drum. "A drumhead is real light and very stiff," he says. "That's what these composite material structures are."
The first 787 VIP Dreamliner will be delivered at the end of the year, when work on the custom interior will begin, says Steve Taylor, the head of Boeing's business jet unit. The first customized 747-8 will be completed in the second quarter of 2014, he says.
Gore Design, planning for more Dreamliner interior work, is investing $20 million in a 787 "knowledge base," a database that, among other things, can identify internal and external sources of noise. Alzeer also expects orders to come in for Airbus's superefficient A350, scheduled for delivery to airlines in the second half of next year.
"Our strategy going forward is we want to be the 787 and A350 center of excellence globally," Alzeer says. "This is the future of this industry, and we want to be ready for that future."
Before it's here, it's on the Bloomberg Terminal.
LEARN MORE