The Latest Hobbit May Come Up Light on Loot
By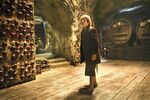 The Hobbit: The Desolation of Smaug will rule the box office this weekend for Warner Brothers, but its returns are expected to be rather unremarkable compared with prior Tolkien films.
Director Peter Jackson's gang of little people aren't expected to pull together as much loot as a bunch of other movie characters from the year, including Iron Man, the ever-hungry Katniss Everdeen, the Man of Steel, Thor, and a gaggle of monsters that went to university.
The second Hobbit film is projected to drum up $80 million at domestic theaters this weekend, according to BoxOffice.com, which would put it at No. 7 for the year, just ahead of Oz: The Great and Powerful.

The preceding Hobbit film, released last December, commanded $85 million in opening weekend ticket sales despite reviews far worse than those for the picture opening this weekend. James Bond made more money in Skyfall, as did Marvel's Avengers and the latest Batman vehicle, The Dark Knight Rises.
Meanwhile, Warner stands to lose roughly $75 million over a Hobbit lawsuit brought by Harvey and Bob Weinstein and their former company, Miramax, which sold Warner the rights to The Hobbit story in 1998. At issue is whether the studio has to share proceeds from all the Hobbit films it produces with the Weinsteins or just those from the first chapter.
In the family of Jackson's Tolkien films, Lord of the Rings: The Return of the King reigns supreme. On an inflation-adjusted basis, the 2003 release brought in $92 million in domestic box office in its first weekend.
Warner's big hope in its quest for outsize Hobbit riches lies abroad. Bloomberg Industries analyst Paul Sweeney says the studio can expect an increasing share of its gross from international ticket sales. Last year's Hobbit release earned 70 percent of its box-office returns abroad, compared with just 64 percent for the first Lord of the Rings a dozen years ago.
"International can make or break a big-budget movie these days," Sweeney says.
Before it's here, it's on the Bloomberg Terminal.
LEARN MORE