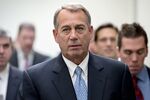 This first session of the 113th Congress may be the least productive ever, but there are still plenty of ways to rate members' performances. We can look at their positions on gun rights, human rights, the environment, women's issues—and now, at last, on matters of food.
It would be fun to parse their favorite meals—Michelle Bachman, a plate of celery; John Boehner, a double-decker sandwich and beer)—but Food Policy Action, a coalition of food policy and environmental groups that includes Top Chef judge Tom Colicchio, has something more serious in mind. It looks at food-stamp funding, food safety, GMO labeling, farm subsidies, and more. Guess which party did better?
Eighty-seven members of Congress received a perfect score of 100, and 85 are Democrats (Maine's independent Senator Angus King makes 86). The sole Republican with a score of 100 is Senator Lisa Murkowski of Alaska.
On the other side of the spectrum, the only Democrat to score below 50 is Virginia Senator Mark Warner. He earned a 40 percent approval rating because he voted against an amendment to restore $4.1 billion in cuts to the food-stamp program, nor did he want states to have the right to label food with genetically modified ingredients. He also opposed an amendment to reduce federal crop insurance subsidies to farmers with incomes of more than $750,000.
Thirty-eight members of Congress—all Republicans—scored zero. Among them: House Speaker John Boehner (Ohio) and Senators Richard Shelby (Alabama) and Mitch McConnell (Kentucky). Some of the other leading lights of the Republican Party did better: Wisconsin Representative Paul Ryan received a 23 percent approval rating for voting to reform the Food for Peace Act and limit farm subsidies; he also voted to cut funding to programs that support farmers' markets and increase lower-income communities' access to healthy food. Texas Senator Ted Cruz got a score of 17 for his vote to reduce crop insurance subsidies.

This would seem to be yet more evidence that everything in Washington is partisan these days. But Ken Cook, president of the Environmental Working Group and chairman of Food Policy Action, is more hopeful about this effort to rank legislators through food. Other congressional scorecards, he said, are much worse.
Before it's here, it's on the Bloomberg Terminal.
LEARN MORE