Sunchokes Roasting on an Open Fire: The Bedford Getaway
By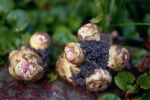 One hour north of New York, there's a mushroom with your name on it.

And a 6-foot-4 hobbit named Jeremy McMillan darting about the woods to fetch it for you.

McMillan is executive chef of the Relais & Chateaux hotel/yoga studio/restaurant also known as the Bedford Post Inn , in Bedford Hills. On a late-autumn evening, Loot's plate bore the fruit of his foraging -- not a mushroom, in this case, but a potato. Make that a sunchoke.

"What is a sunchoke, anyway? No one at our table can figure it out," I ask the chef, not waiting for the answer to devour it.

"It's also called a Jerusalem artichoke," McMillan says with a smile. "It's the tuber of a type of sunflower, similar to but creamier than a potato. And the skin has an amazing truffle flavor. But it's a little briny, which is why I paired it with the monkfish."

The monkfish-sunchoke number is delightful. But that's not what's striking. It's McMillan's look-what-I-found wonderment that pervades the dishes, which are almost all wood-fired and displayed on either cut slate or slabs of wood, and copiously garnished with local foliage. Who knew smoked rose petals were so tasty?

"Bringing nature in has to be the intention. It's our biggest asset," says McMillan, 36. "Where I grew up [in the Arizona desert], weather extremes were a big part of life. I learned there are two ways about this. You either need to shut it out and provide an oasis, or you need to bring the outside in." McMillan's been busy hiring local farmers who help him keep things fresh.
There are years of nurture behind all this nature. McMillan got his start in Scottsdale, Arizona, working first as a line cook at Michael's and then at Zinc Bistro as chef de cuisine. But it was at Manhattan's A Voce Columbus where he was discovered and wooed by Bedford Post owners Richard Gere, Carey Lowell (yep, those guys) and Russell Hernandez, co-owner and contractor. They built the inn in 2007 as a place of refuge and reflection -- cue the Namaste greetings, the cashmere blankets, the candlelit stone pathways.
Since then they've decided to take a step back and let general manager Peter Ruvolo and Chef McMillan have at it. Now, the hushed Zen vibe is loosening up and the joint is ever so much more fun.

"Rich and Carey are both very supportive. I have complete creative freedom here," says McMillan.
Gere wasn't available for comment, but Lowell can't say enough. "Jeremy has a huge heart and a lust for life. He is unafraid to experiment with new flavor combinations, and his food is always exciting as a result," she says. "His style of cooking is in complete harmony with the relaxed yet refined style that we strive to embody."

The Farmhouse restaurant's experimental woodsy menu is a far cry from its earlier, more traditional American fare. Experiment away, says the perennially full dining room of patrons paying $29 to $36 for a main course and $95 for the seasonal tasting menu.
Word to the wise on the "tasting" menu. While each individual dish is inspired (don't miss the carne cruda with horseradish, creme fraiche and roses), take seven courses of medium-size portions together and you'll never make it to the morning yoga class. "Our guests expect a tasting menu," McMillan says. Right, but perhaps not a coma. You'll need to recover in the eight-room inn -- at $650 per night.
"It's the perfect weekend getaway for us," says Mary McAdam, a legal administrative assistant, smiling at her date. "With the kids it's tough. This is one of the few places we can relax and be by ourselves."
Is there something in the wine? All the tables seem full of sparkly-eyed epicureans holding hands. To test the theory, Loot sampled another sign of the new guard, a bottle of Dettori 2007, which drinks like a cross between an Amarone and a 20-year-old port.

"I'm not gonna lie, it's unpredictable," says Meng Chiang, a spiky-haired lawyer-turned-sommelier who says his desire to turn his passion for wine into work brought him to the inn, where he can hang with his buddy chef Jeremy and create his dream wine list. "It's 18 percent alcohol, and with the residual sugars, once you have the Dettori, you can't have anything else. It's huge."

A 35-year-old extrovert, Chiang stands out from tonight's stiff-collared clientele. Thankfully, the Dettori cuts through sit-up-straight beginnings, eases the sting of an absent Richard Gere and opens the crowd up to the wilder side of Bedford. Warrior One poses and forest romps included.

Jennifer Parker is a multimedia editor for Bloomberg TV.