Private Toll-Road Investors Get Low-Risk Deals From States
Private investors don't want to suffer if tolls fall short
By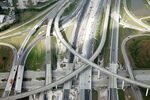 Private companies that invest in highways have typically shouldered the risk that income from tolls might not be enough to make the deal pay. Now, after at least 11 projects have struggled financially since 1995, the companies are persuading states to make fixed payments so it's taxpayers who roll the dice. Under the arrangements, states receive toll revenue and have to cover any shortfall with money from their operating budgets. The terms typically call for the states to take over the roads after several decades. "It's a very good idea to have private people provide roads," says Gabriel Roth, a retired traffic consultant who has worked for the World Bank as a transportation economist. "But the condition in which the state pays up if there is no traffic is a disaster."
In 2009, Florida agreed to pay private investors, including Madrid-based Actividades de Construcción y Servicios and pension fund TIAA-CREF, $66 million annually over 30 years to renovate an interstate highway near Fort Lauderdale and add toll lanes. The investors will also get payments of as much as $686 million linked to completing the project by June 2014. Without private investment, the state couldn't have finished the project until the late 2020s, according to Paul Lampley, a construction manager for the Florida Department of Transportation. The arrangement will inflate Florida taxpayers' costs by $13 million or save as much as $244 million, depending on which assumptions are used about construction costs and interest rates, according to the department. "With the financial crisis going on in 2008 and 2009, this structure made the deal close, despite all the turmoil," says Leon Corbett, project finance manager at the department.
Illinois and Indiana are offering investors set payments instead of toll revenue to build roads. The Port Authority of New York and New Jersey is using similar financing to build a bridge to Staten Island from Elizabeth, N.J. "We are seeing more of that because investors are a bit skittish about the U.S. market," says Richard Geddes, director of Cornell University's program in infrastructure policy. "If it's a new road, there is a lot of risk on how many vans, trucks, motorcycles, and other vehicles will end up paying the tolls." There are at least six unannounced toll-road projects under discussion in which states would make fixed payments, says Peter Raymond, leader of U.S. capital projects and infrastructure at PricewaterhouseCoopers, which consults for companies building the roads. "For the financial community, it makes it much less risky and less costly," he says. "It makes it easier for the concessionaires to get the deal done."
For much of the past century, states and regional agencies built toll roads by selling tax-exempt bonds. As road funding diminished and lawmakers objected to raising taxes, governments began seeking other ways to raise money. The first private road in modern years, the Dulles Greenway, opened in 1995 in the Virginia suburbs of Washington. Initial traffic on the 14-mile greenway was less than forecast, forcing a refinancing in 1999 in which private investors took losses. Other privately backed roads in California, Colorado, Illinois, Indiana, South Carolina, Texas, and Virginia, have had bankruptcies, restructurings, or credit downgrades. The operator of the southern leg of State Highway 130, a toll road near Austin, Tex., has missed initial revenue forecasts by 55 percent since opening in 2012. Moody's Investors Service says there's a "high likelihood" of a bond default next year.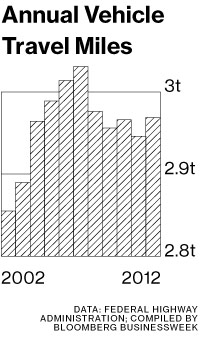 Traffic forecasts done by consultants for states and investors have long proven overly optimistic. The first-year revenue of 26 public and private toll roads that opened from 1986 to 2004 averaged one-third less than projected, according to a 2009 analysis of federal data by Robert Bain, a transportation consultant. U.S. miles traveled peaked in 2007 at 3.03 trillion, then declined 2.5 percent through 2012, according to the Federal Highway Administration. "You never see a consulting report be negative or else they won't be able to sell the bonds," says Howard Cure, managing director of municipal bond research at Evercore Wealth Management.
Thirty-three states allow private ownership of highways, according to the National Conference of State Legislatures. While Texas is one, state lawmakers rejected a bill this year that would have permitted fixed payments to investors. "I've spent time over the past decade trying to build a fire wall between taxpayers and these types of investments," says Lois Kolkhorst, a Republican state representative who led the opposition to the bill. "Don't make taxpayers pay for mistakes."
BOTTOM LINE -
The bottom line: At least 11 private toll roads have run into trouble since 1995, so states are offering investors fixed payments.
Before it's here, it's on the Bloomberg Terminal.
LEARN MORE