More Pain for JPMorgan Chase Shareholders
By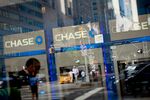 Just in time for the five-year anniversary of Bernard Madoff's arrest at his apartment on the Upper East Side of Manhattan comes word of yet another eye-popping fine for JPMorgan Chase.
In this case, the bank has tentatively agreed to pay around $2 billion to resolve claims that it ignored signs of illegal activity on the part of Madoff, its former client, who is currently serving a 150-year prison sentence for running a $50 billion Ponzi scheme. The resolution of the case would involve a deferred prosecution agreement, in which the bank would agree to the government's allegations and pledge to make changes to prevent something similar from happening in the future, in exchange for avoiding criminal indictment, which would be crippling for any bank.
The negotiations are close to complete, according to the New York Times, and the final agreement could be announced by the end of the year. Half of the $2 billion would consist of a fine, and some portion of the rest would go toward compensating Madoff's victims. This comes less than a month after JPMorgan agreed to a record-setting $13 billion settlement with the Justice Department to resolve investigations into sales of mortgage securities in the runup to the financial crisis. That was the largest sum ever extracted from a single company, the government boasted at the time.
The Madoff case is another record—it's the first time a deferred prosecution has been used with a major Wall Street firm. The idea was floated over the summer by SAC Capital's Steven Cohen, who was hoping to avert criminal charges against his hedge fund, which was being investigated for insider trading. Cohen wasn't so lucky, and SAC was indicted in July. In JPMorgan's case, a criminal indictment against the company could have sent shock waves through the financial system. JPMorgan has previously said that it acted in good faith in its dealings with Madoff.
In a recent SEC filing, the bank enumerated eight different investigations into its business that are under way at the Justice Department, including probes of its hiring practices in Asia and its energy trading unit, in addition to Madoff and the recently-settled mortgage cases. So JPMorgan shareholders should expect to continue sending money to the government for some time to come.
Before it's here, it's on the Bloomberg Terminal.
LEARN MORE