Merry Christmas, Bacon Is Getting Cheaper
by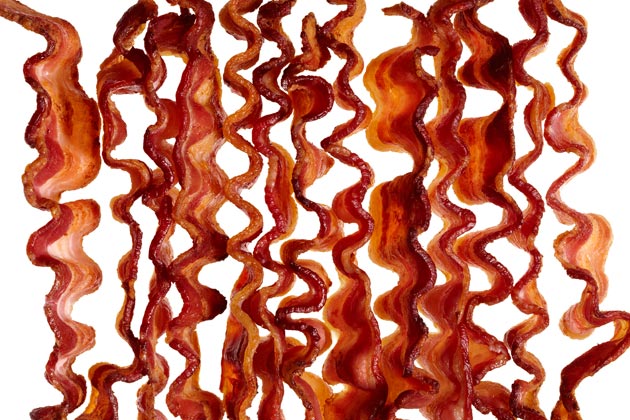 Fatty piglets are back, after gorging on cheap corn, and it's helping bacon prices fall from record high levels. Get ready to stock your fridges, America, 2014 is going to be a flush year after all.
Bloomberg News reported today that this year's 38 percent drop in corn prices has helped hogs eat their way to a record 214.24 pounds (that's the average carcass weight. It's 282.4 pounds live). The U.S. Department of Agriculture said pork production in the U.S. will climb 2.9 percent next year to a record 23.92 billion pounds. Make it rain…bacon.
How will such bounty affect prices? On the wholesale level, prices for pork belly, the part used to make bacon, already have plunged 23 percent since the end of September. As supply expands, Steiner Consulting estimates wholesale pork-belly prices will fall another 1 percent in 2014 to average of about $1.80 per pound.
Cheaper pork belly should translate to cheaper bacon down the road—whether in your breakfast sandwich, salad, ice cream, mayonnaise, chocolate, or Lady Gaga meat dress costume (pork edition). Steve Meyer, the president of Paragon Economics in Adel, Iowa, told Bloomberg News, "The price is going to moderate some because we will raise more pigs."
Bacon, usually a cheaper cut, caught up with pork chops in 2007 and became more expensive in 2010, according to Bloomberg News. Retail prices for bacon jumped 23 percent to $5.708 a pound this year, the highest level since at least 1980.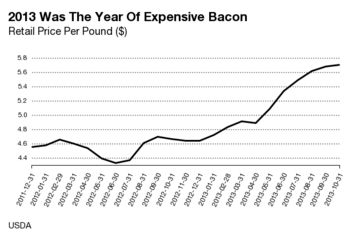 Before it's here, it's on the Bloomberg Terminal.
LEARN MORE