Mercedes on Pace to Pass BMW in March
by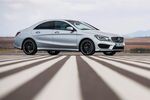 With only a few days of sales remaining in 2013, BMW is looking like a lock yet again to be the world's top seller of luxury cars.
The company sold 1.5 million "Ultimate Driving Machines" in the first 11 months of the year, handily outpacing Audi's 1.44 million and the 1.32 million vehicles moved by Mercedes-Benz.
 
But the luxury car race never ends and Daimler is picking up a lot of speed. Here's a look at global vehicle sales by month for the year to date:
 


BMW's lead is apparent, but Mercedes edged past Volkswagen's Audi last month, a rare feat lately.
What's most impressive, however, is how quickly Mercedes is growing. Here's a look at 2013 monthly sales gains and the percentage change over 2012 levels. Daimler backfired in February, but kicked into overdrive in July.

If recent growth rates hold, Daimler will wrest the global sales lead from BMW in March.
"The current model cycle is very beneficial for Mercedes," Commerzbank analyst Sascha Gommel told Bloomberg. "Audi and BMW have to invest in new production capacities and the development of new models."
Daimler's compact models have been particularly hot, including the CLA-Class coupe, which sells in the U.S. at a starting price just shy of $30,000, and the A-Class, a hatchback.
Geographically, BMW kept its edge in Asia, but Daimler shot to the front of the U.S. market. And Mercedes is closing the gap quickly (PDF) in Europe. It's sold 5.3 percent more vehicles on the Continent this year through November, while BMW demand was static.
Before it's here, it's on the Bloomberg Terminal.
LEARN MORE