Need Victims for Your Mass Lawsuit? Call Jesse Levine
To understand how the American civil justice system works, you need to know Jesse Levine. He finds bodies for mass lawsuits
Paul M. Barrett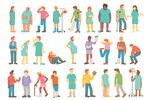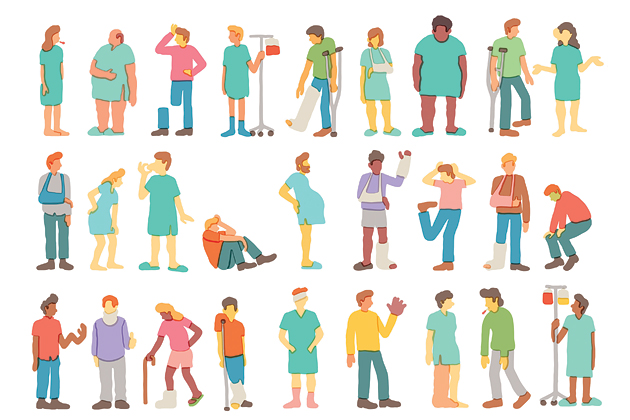 On April 22, 2011, a Missouri resident named Linda Burke received a phone call from a woman who identified herself as "Sarah." Burke didn't know Sarah, but that didn't stop the caller from asking some exceptionally personal questions. Had anyone in the Burke household died after taking a diabetes drug called Avandia? Sarah "refused to tell me who she worked for, [her] address, or phone number, and hung up," Burke said later, according to state court records. At the time, Avandia's manufacturer, GlaxoSmithKline, was besieged by lawsuits linking Avandia to an increased risk of heart attack. Burke and scores of other Missouri residents wanted no part of the Avandia litigation, court records show. "Getting an avalanche of calls," a consumer named Walter Lechtreck complained to the state's attorney general. "They're soliciting about a lawsuit against this pharmaceutical company about Avandia. I'm getting this almost daily. Twice already today."
After investigating, Missouri Attorney General Chris Koster discovered that a company called Internet Technology Partnerships was behind the solicitations. ITP has ties to a network of websites including MedRecallNews, ServicesToLawyers, and Pearl-Shucker.com, among others. These companies do law firm marketing and identify clients for mass-injury lawsuits against pharmaceutical manufacturers. They're all operated by Jesse Levine of Norristown, Pa.
Levine is not an attorney. His line of work is known as lead generation: Lawyers pay him for the names of alleged victims. He has rivals with names such as All Your Leads Needs, Tort Law Group, Your Lead Caller, Guaranteed Performance, and MassTortROI (return on investment). They provide the pipeline that connects claimants to lawyers—or vice versa. The sites are the hidden plumbers of the mass-tort industry, a web of plaintiffs' attorneys, paid expert witnesses, and accountants who annually pursue billions of dollars' worth of lawsuits against companies that make drugs, chemicals, cars, and other products.
Levine prefers a different metaphor for what he does. The "pearls" produced by his trademarked Pearl-Shucker Lead Qualification System are medical patients whose woes bring large settlements. The system "was developed over the last 10 years and began with a white paper I published in 2002, introducing this landmark process for legal marketing and data mining," Levine explains on one of his websites. "Since then, we've built a system for developing thousands of qualified case leads and have become the 'in-house' marketing department for law firms of all sizes around the country."
Levine employs 13 people full time in the Philadelphia suburbs and supplements them with $4-an-hour contractors in the Philippines. His workers sometimes gather names and personal data that consumers provide to Levine websites. On other occasions, the telemarketers use lists Levine purchases from consumer survey firms that identify people who've purchased certain categories of drugs. Levine's employees call the prospects, find out if they've suffered side effects, and ask whether they'd like to sue the pharmaceutical manufacturer. There's no charge upfront. If a consumer says yes and she's saved her medical paperwork, Levine will sell her name to a plaintiffs' lawyer. Leads go for $500 to $2,000 apiece, depending on how thoroughly they're vetted and the likelihood that the manufacturer in question will ultimately consent to a substantial settlement. BP's agreement last year to pay out what's now estimated at more than $9 billion to businesses harmed by the 2010 Gulf of Mexico oil spill is one example of a big settlement that has grown even bigger by the addition of claimants vacuumed up by lead generators.
In theory, these little-known businesses channel legitimate injury victims to upstanding lawyers. State bar rules prohibit lawyers from sharing their client fees with nonlawyers, but generally it's not illegal to purchase names of potential clients, according to Stephen Gillers, a professor at New York University School of Law specializing in professional ethics. "I suppose the concern, as with any business or financial transaction," he adds, "is that you should know who you're doing business with."
Levine, who advertises himself online as "the Ambassador of consumer advocacy," has had a long and colorful career as a financial consultant and marketer and comes to lead generation with troubling baggage. He served two short stints in federal prison on financial fraud convictions. Perhaps his brushes with the legal system inform his current dedication to righting perceived wrongs. In an Oct. 7 press release on PR Newswire, he described himself as having "worked diligently to ensure that victims of medical negligence gain maximum compensation for their suffering."
 
 
The business of procuring clients for personal injury lawyers isn't new. The pejorative term "ambulance chaser" describes not only an attorney who hands out business cards at accident scenes or emergency rooms but also a nonattorney recruiter. In some places, ambulance chasers are referred to as "case runners." Traditionally, these shadowy characters have operated on a small scale, taking $50 or $100 for a promising referral. Earlier this year the Texas Court of Criminal Appeals affirmed the conviction of a legendary Corpus Christi case runner named Mauricio Celis. Prosecutors alleged Celis collected millions of dollars from plaintiffs' lawyers from 2004 through 2007. While Celis had close ties with South Texas tort firms, it turned out his own claim to being an attorney was false and led to a criminal sentence of 10 years' probation.
Plaintiffs' attorneys value access to large batches of potential clients because the ability to mount hundreds or even thousands of claims provides leverage in settlement negotiations with a corporate defendant. LexisNexis, a unit of the large British data provider Reed Elsevier, promises plaintiffs' lawyers that within 48 hours it will "fill your new business pipeline with pre-qualified legal leads." Other companies implicitly concede that some of their prospects may be more reliable than others. Exclusive Attorney Leads, for instance, charges $695 for the name of a woman who has taken a contraceptive called Yaz and subsequently suffered blood clots, a complication that can be a side effect of the Bayer product. That's the price listed online if the Yaz lead has been cleared by an "American" screener. The name of a similar patient who has been cleared by an "off shore" screener costs only $500, according to Exclusive's website. Phone messages seeking comment from Exclusive were not returned. Without conceding wrongdoing, Bayer has so far settled about 1,900 contraceptive cases for a total of more than $400 million.
For several years, Glaxo felt the pressure of mass litigation concerning Avandia. In 2012 the company agreed to pay $3 billion to settle federal and state government claims that it illegally marketed the diabetes drug and others. In Missouri, Attorney General Koster formally alleged that Levine's telephone fishing for Avandia plaintiffs violated the state's Do Not Call list and failed "to disclose to consumers that the purpose of the call was to solicit the sale of legal services." Levine denied wrongdoing but agreed to pay a settlement of $35,000 and to follow the law. In an e-mail, he says he settled only "because legal fees would have exceeded the amount of the settlement (seems sometimes there is no 'winning'; you pay, win or lose)."
Several prominent injury lawyers interviewed for this article acknowledged the surge in lead generating, but said they personally don't do business with Levine or his rivals. "I don't know who's behind the curtain, that's what concerns me," says Tor Hoerman, the founder of TorHoerman Law in Chicago. He concedes, though, that within the firm's large pools of clients, it may represent individuals originally procured by lead generators, sold to other plaintiffs' firms, and then referred to TorHoerman Law.
Some cross-referencing of Levine's marketing materials with public court records reveals that in at least one case involving Actos, a diabetes drug, Hoerman is representing a lead identified by Levine. Hoerman serves as a lead counsel in a consolidated case in state court in Cook County, Ill., involving thousands of claims against Takeda Pharmaceutical, which makes Actos, a medication that allegedly increases the risk of bladder cancer. Takeda has denied wrongdoing. One of Hoerman's clients in that litigation is Edward McCusker of Jacksonville, Fla. McCusker's profile matches that of an "Edward" featured on Levine's website as a sample Actos lead. "Edward was taking Actos from 2005-2008 as treatment for type II diabetes," the site states. "While taking Actos he was diagnosed with bladder cancer in 2006. … [T]he cancer recurred several times."
Hoerman says the Branch Law Firm in Albuquerque referred McCusker to him as a client. "I don't ask whether referring law firms use [lead generators]," he says. Turner Branch of the Branch Law Firm didn't respond to a detailed e-mail seeking comment or a follow-up phone call. "I've made the assumption that they [referring law firms] have checked out the ethics of these arrangements," Hoerman adds. "I guess I need to know more about it." When informed of Levine's history, Hoerman says, "Oh, s-‍-‍-. Yeah, I've got to look into this."
 
 
During the pre-Internet phase of his career, Levine operated Physicians Finance Group in Philadelphia. He assured clients that for a fee he would help them secure loans. "He got clients by advertising in the Wall Street Journal, through word-of-mouth, and a network of brokers throughout the country," a federal prosecutor named Linda Dale Hoffa told the Philadelphia Inquirer in 1989. Unfortunately, Levine didn't get his clients the $130 million in loans he promised.
"Not one transaction was completed, and not one advanced fee was returned," Hoffa said. Levine took more than $1 million, spending some of it on his family, on himself, and for office redecoration, according to the government. These activities led to convictions in Philadelphia and Chicago and Levine's two visits to the federal prison in Allenwood, Pa., one from 1989 to 1990 and the other from 1994 to 1995. In April 1994, the sentencing judge in Chicago described the punishment as "highly lenient."
Now in his mid-70s, Levine is of average height, slim, and sinewy. He has short-cropped silver hair, dresses nattily in dark tones, and wears mirrored aviator-style sunglasses. He's outgoing and, former colleagues attest, nonconfrontational. "An office manager who worked for Levine in 1984 and 1985 said in court papers that she occasionally fielded telephone calls from irate clients and that Levine had instructed her to tell the clients he was not available," the Inquirer reported in February 1989. "If a client showed up, he left the office and returned after the client left."
I met Levine for two conversations at eateries at the hectic 30th Street Amtrak train station in Philadelphia. He expressed regret about his past crimes and said he had feared they'd come back to haunt him: "This is my nightmare for 25 years." He added, "I paid my debt to society, and I think now I'm helping people."
One of the ways Levine cultivates lawyers is by attending and sponsoring plaintiffs' litigation seminars. Pearl-Shucker.com was advertised as a "featured sponsor" of the Pradaxa Litigation Conference at the Fontainebleau Miami Beach hotel in November 2012. Manufactured by Boehringer Ingelheim, Pradaxa blood-thinning medication has been targeted by more than 1,300 claims linking it to dangerous bleeding. (Boehringer has denied wrongdoing.) The Miami Beach gathering was co-chaired by Hoerman and included lectures such as "State of the Pradaxa Litigation: Multi-District Litigation Formation, Case Management Orders, Common Benefit Fees, and Foreign Defendants," which was delivered by Mikal Watts of Watts Guerra in San Antonio. Watts is one of the best-known mass-tort lawyers in the country.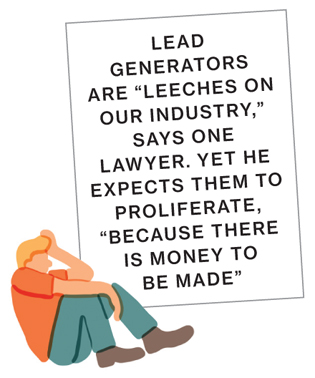 Ryan Thompson, one of Watts's law partners and another presenter at the Pradaxa conference, says Watts Guerra takes referrals from other law firms but doesn't directly employ Levine or other lead generators. Asked whether Watts Guerra's stable of thousands of clients might include "pearl-shucked" leads, Thompson says, "It's certainly possible." He calls lead generators "leeches on our industry" and says the prospective clients they identify often don't pan out. Still, he expects lead generators to proliferate, "because there's money to be made."
Thompson acknowledges, more broadly, that questions about how mass-tort lawyers gather clients will continue. His partner Watts has run into controversy from his representation of thousands of claimants seeking money from BP as a result of the April 2010 Gulf oil spill. In February federal agents raided two Watts Guerra offices in San Antonio and served search warrants for files related to BP cases. "The investigation concerns the origin of the BP claims," says Michael McCrum, Watts's criminal defense lawyer. McCrum says Watts did nothing wrong and that, as far as he knows, federal investigators are not focusing on outside lead-generation firms. Federal authorities declined to comment.
That's not to say lead generators have failed to notice the multibillion-dollar BP litigation, which is being supervised by a federal judge in New Orleans. With characteristic verve, Levine has set up bpclaims.info, a website with a physical address on West Main Street in Norristown, Pa.
"The most common misconception" of the BP settlement agreement, Levine says in a statement quoted on the BP Claims site, is that businesses have to be located on the coast to qualify. "Any business in Alabama, Louisiana, Florida, Texas, and Mississippi that suffered a loss of revenue between May and December 2010 could be leaving settlement money on the table," he adds. "It's nothing short of a moral imperative to make sure every business in the five states takes advantage of the court-ordered settlement and collects every penny in the fund. Given the severe financial, natural, and emotional toll exacted on American shores by this foreign company, it's almost a patriotic duty."
Before it's here, it's on the Bloomberg Terminal.
LEARN MORE