Congress's Big, Stingy Christmas Mistake
Unemployment benefits that boost the economy are about to expire
By

For the past few years, Congress has functioned as a millstone weighing down the country's recovery. The combination of austerity, manufactured crises, and a partial government shutdown has slowed economic growth. That's why the modest two-year budget deal that congressional negotiators announced on Dec. 10 to lift some of the automatic sequestration cuts is such good news, despite the criticism it's drawing from budget scolds who want something bigger. The October shutdown cut projected fourth-quarter gross domestic product growth by about 0.3 percentage points, according to an Oct. 19 Bloomberg News survey of economists, while Republicans' default threats briefly pushed up U.S. bond yields across every maturity, raising borrowing costs and adding to the debt. Simply avoiding another shutdown and default scare will leave Americans better off than they would be otherwise.
Although a second shutdown appears unlikely, another fiscal crisis is coming that isn't getting nearly enough attention: On Dec. 28, emergency federal unemployment compensation is set to expire for 1.3 million Americans who've been looking for work for at least six months. Enacted in 2008 during the recession, the benefits pick up when a person's regular state unemployment insurance runs out. The economic effect of cutting off this money hasn't gotten much notice because the issue tends to be viewed through a moral and political lens. That's how Republican Senator Rand Paul of Kentucky framed it when he suggested on Dec. 8 on Fox News that extending emergency benefits would be "a disservice" to the unemployed because they encourage dependency. But ending emergency aid should also be considered through a fiscal lens, because it would further dampen economic growth in an already weak recovery.
How much would growth suffer? According to the U.S. Department of Labor, extending federal benefits through 2014 would cost about $25 billion. The actual economic impact of cutting them off would be larger. That's because the unemployed reliably spend that money, creating a multiplier effect in the economy. Mark Zandi, chief economist at Moody's Analytics, estimates that every dollar of unemployment benefits generates about $1.55 in economic activity. By that measure, ending the payments would cost about $39 billion in spending next year.
The economic blow would be worse than just the lost spending from those 1.3 million people now drawing federal unemployment checks. Those who lose jobs and exhaust their regular benefits over the course of the next year wouldn't have the federal program as a backup. A Dec. 5 report from the White House Council of Economic Advisers and the Labor Department estimated that an additional 3.6 million people stand to lose access to federal benefits next year, meaning the cost to the economy would be much larger than $39 billion.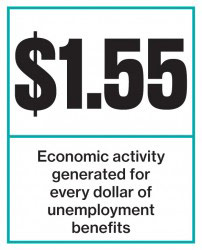 The Congressional Budget Office recently took a stab at measuring the economic effects of continuing emergency benefits through 2014, concluding it "would increase inflation-adjusted GDP by 0.2 percent and increase full-time-equivalent employment by 0.2 million in the fourth quarter of 2014." If you use Zandi's multiplier, the GDP increase would be more like 0.3 percent. So letting emergency benefits expire would be as much a self-inflicted blow to the recovery as the shutdown was—worse, in fact, since the shutdown mostly postponed demand until federal workers were paid, while the demand lost from ending benefits likely won't reappear.
Congressional leaders chose not to extend federal unemployment benefits in the new budget deal. Republicans insist that any spending be offset with cuts elsewhere, and the parties struggled to agree on how to relieve $62 billion of sequestration cuts. Some Democrats are agitating for a last-minute reprieve on unemployment, saying only the Grinch would cut off 1.3 million people over the holidays. They're making a moral argument to shame Republican colleagues, but they could make an economic case, too: If the Grinch wanted to harm Whoville's economy and ruin Christmas, snatching unemployment benefits would be a great way do it.
BOTTOM LINE -
The bottom line: Ending emergency unemployment benefits would cost the economy at least $39 billion in 2014.
Before it's here, it's on the Bloomberg Terminal.
LEARN MORE